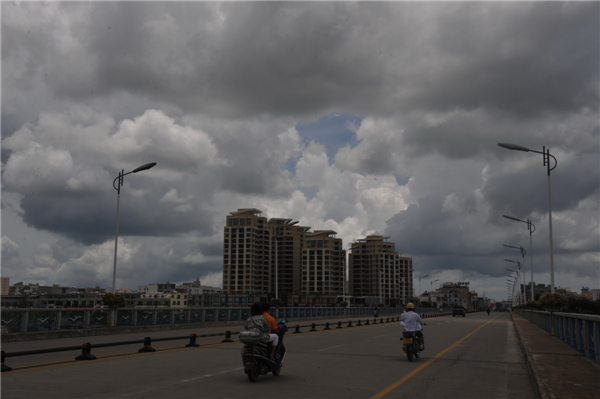 Dark clouds formed by the incoming Tropical Storm Jebi tumble over Qionghai city of South China's Hainan province on August 1, 2013. China's Central Meteorological Observatory said the typhoon,the ninth this year, is moving northwest at a speed of 10 km/h with its maximum wind speed near around 40 knots. It is expected to hit the coastal area in eastern Hainan and western Zhuang autonomous region on Friday afternoon.[Meng Zhongde/Asianewsphoto]
BEIJING - A yellow wave warning was issued Thursday for tropical storm Jebi, according to the National Marine Environmental Forecasting Center.
Jebi is expected to land in south China's Hainan Province or on the Leizhou Peninsula in Guangdong Province sometime Friday afternoon or night, the center said.
From Thursday to Friday, the storm is expected to create sea waves of four to seven meters in South China Sea. It is also expected to create waves of three to four meters off the coast of Hainan, the center said.
The center urged all local fishing vessels to return to port, as well as called for local authorities to step up safety inspections to brace for the storm.
The storm is moving northwest at a speed of 10 to 15 km per hour. It is strengthening as it nears the eastern coast of Hainan.