China maintains orange alert for Typhoon Soulik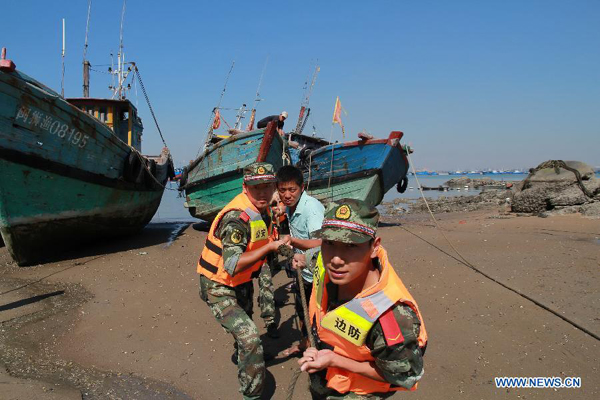 Soldiers help fishermen moor the boats at the Shenhuwan Pier of Quanzhou city, East China's Fujian province, July 11, 2013. [Photo/Xinhua]
BEIJING - The National Meteorological Center (NMC) on Friday maintained an orange alert for Typhoon Soulik.
Soulik is moving toward waters east of Taiwan and the provinces of Fujian and Zhejiang at a speed of 20 km per hour and is expected to hit or pass waters near Taiwan late Friday or early Saturday morning before landing on the mainland on Saturday, the NMC said.
High winds will hit waters east of Taiwan, as well as north Taiwan and its coastal areas, from Friday morning to Saturday morning.
Areas directly hit by Soulik will experience extremely strong winds, the NMC said.
The NMC has asked local authorities to implement emergency response measures, such as warning ships to return to port.
The country's marine forecasting authority issued an orange wave warning for Soulik Friday.
The National Commission for Disaster Reduction and the Ministry of Civil Affairs has issued a national early disaster warning, asking local civil affairs departments to prepare for the arrival of the typhoon.
The NMC also forecast frequent rain in North China over the next three days, as well as scorching weather in the south.
Temperatures in parts of Central and South China, including Chongqing Municipality and the provinces of Henan, Jiangxi, Hunan, Hubei, Anhui, Zhejiang and Fujian, will reach as high as 37 to 39 degrees Celsius, the center said.
China uses a four-tier color-coded weather warning system, with red representing the most severe weather, followed by orange, yellow and blue.
Related Stories:
E China bracing for approaching Typhoon Soulik
Typhoon Soulik to affect Zhejiang, Fujian provinces
China to issue red alert for Typhoon Soulik

Editor's picks

Copyright 1995 - . All rights reserved. The content (including but not limited to text, photo, multimedia information, etc) published in this site belongs to China Daily Information Co (CDIC). Without written authorization from CDIC, such content shall not be republished or used in any form. Note: Browsers with 1024*768 or higher resolution are suggested for this site.
Registration Number: 130349