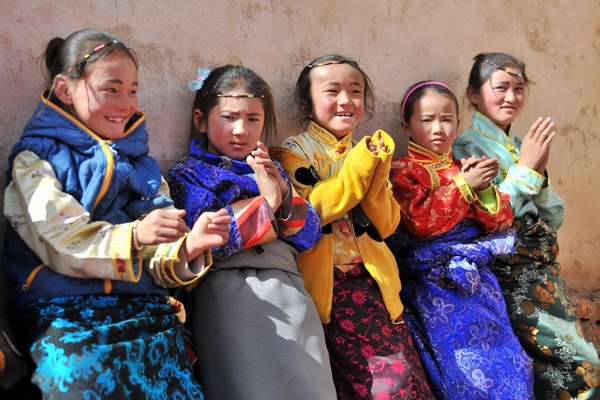 Children in traditional dresses celebrate 2013 Tibetan New Year on Feb 11 in Gannan Tibet autonomous prefecture, Gansu province.[Photo/Xinhua]
LHASA - Trashi Dondrup got up at 4 am on Monday for his shift as a security guard at the entrance way of Pargor, Lhasa's major commercial street which encircles Jokhang Temple.
Aided with security devices and computers, Dondrup and his colleagues confiscated dangerous items like lighters from visitors.
"This is the first day of Tibetan New Year. Large crowds of Buddhist believers and tourists will flock here. We have to be careful in security checks to ward off dangers," said the Tibetan man while keeping a smile for every visitor.
Tibetans embraced the "Water Snake Losar" on Monday, which is New Year's Day in the Tibetan calendar. The Tibetan New Year this year is only one day apart from the Spring Festival, or the Lunar New Year, which falls on Feb 10.
Celebrations of the Tibetan New Year usually last for 15 days.
Pasang, a driver of the No 19 bus in Lhasa, said there were many more people coming from rural areas of Tibet to the regional capital on Monday compared to ordinary days.
The 38-year-old man expressed envy for those who can spin prayer wheels and pay pilgrimages to temples in Lhasa. But because of his work, he only had two days off during the New Year holiday.
"It should be a happy day for everybody. My best wish is to give passengers a safe and fast bus journey," he said, grinning from ear to ear.
Tsering Puntsog arrived at Jokhang Temple just as the day broke.
The 25-year-old Buddhist joined the long queue snaking slowly into the temple to worship the statue of Shakyamuni.
Pungtsog offered ghee and "hada," a strip of raw silk and linen, to Buddha while wishing for a prosperous and healthy New Year for his family.
"I understand that temples are the most crowded with people praying on the first day of the New Year, but it has become a tradition in my family to worship on this day," he explained.
Tibetans also took to the Internet to report on their New Year experiences. A netizen with the screen name "Bu-Bi" said on Sina Weibo, China's equivalent of Twitter, that it took him more than five hours to work his way through the crowds and complete a visit to Jokhang Temple.
"Hekeledemaomaoyu" similarly tweeted that it took her four hours to finish climbing the steps in front of Potala Place this morning, such were the number of pilgrims and visitors to the site.
Tourists also posted on the website that many local restaurants in Lhasa were closed on Monday. They could only fend off their hunger in fast food chain stores.
Prayer flags can be seen everywhere in Lhasa, from temples to roofs of folk houses.
Named "Lung-rta" in Tibetan language, a homophone for "Luck," the flags are imprinted Buddhist scriptures. Tibetans believe that when the flags are blown by wind, the scriptures are chanted at the same time.
Tibetans living elsewhere in the country also bought into the festive spirit.
Dharma instruments were blared in Kumbum Monastery in Xining, capital of Qinghai province, on Monday morning, as Tibetan believers spinning prayer wheels chanted sutras as they walked around the temple in worship.