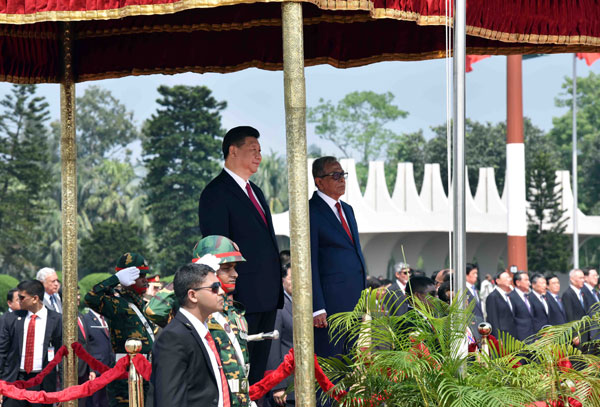 Bangladeshi President Abdul Hamid, right, holds a welcoming ceremony for visiting Chinese President Xi Jinping in Dhaka, Oct 14, 2016. [Photo/Xinhua]
President Xi's recent state visit to Bangladesh underscores China's efforts to further intensify development of the One Belt, One Road (OBOR) Initiative - and a strategically important regional economic corridor in South Asia.
The land dimensions of the OBOR consist of several inter-connected corridors spanning the entire Eurasian continent. Bangladesh is centrally situated along the Bangladesh-China-India-Myanmar (BCIM) Economic Corridor.
Bangladesh also occupies a strategic position along the 21st Century Maritime Silk Road with its bustling port of Chittagong as a major maritime hub through the Indian Ocean.
President Xi's visit aims to bolster economic and political ties to Bangladesh and stands out as an historic milestone in China-Bangladesh relations.
According to the Sino-Bangladeshi Joint Statement, the two countries will also commence feasibility studies on the establishment of the China-Bangladesh Free Trade Area and China will continue to support Chinese enterprises in the construction of special economic and industrial zones in Bangladesh.
The two parties also affirmed that, in addition to Chinese domestic banks, the Asian Infrastructure Investment Bank (AIIB) will be an important financial source for Bangladesh's economic development needs, as witnessed by the fact that one of the first four AIIB loans was for a Bangladeshi power distribution system upgrade and expansion project.
China already has FTAs with a handful of countries, including Pakistan, as well as with ASEAN. China's FTA practice is evolving, but its existing agreements provide a reliable indicator of the extent of trade and investment facilitation and liberalization we can expect under the future China-Bangladesh FTA.
Bangladesh is also a member of the OBOR BCIM Economic Corridor (EC) group of countries which in effect represents a small regional trade arrangement providing opportunities for deeper cooperation in areas such as connectivity, trade and investment liberalization, energy, and water management – although the primary focus to date has been on multi-modal transport and industrial zones.
The author is a Director of the Centre for International Economic Law, Trade & Development (CIELTD).