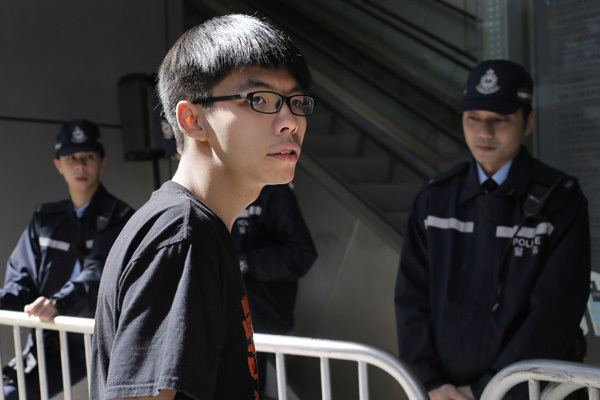 Hong Kong student activists Joshua Wong Chi-fung [Photo/Agencies]
Hong Kong student activists Joshua Wong Chi-fung and Alex Chow Yong-kang have been convicted for unlawful assembly and Nathan Law Kwun-chung for incitement over the storming of government headquarters on Sept 26, 2014, the prelude to the illegal "Occupy Central" movement that disrupted normal life in the city for more than 79 days.
After the July 21 court judgment, some British and US media outlets passed unfair and biased remarks against the convictions. Instead of reminding young people not to violate the law, The Wall Street Journal, The New York Times, The Washington Post, The Guardian, The Telegraph and BBC, along with Amnesty International, criticized the conviction, using words and phrases such as "vague", "smacks of political payback" and "a chilling warning to freedom of expression".
But a closer look at Hong Kong's laws would show these accusations are ignoring the rule of law at least. Section 18(1) of the Public Order Ordinance defines "unlawful assembly" thus: "When three or more persons, assembled together, conduct themselves in a disorderly, intimidating, insulting or provocative manner, intended or likely to cause any person reasonably to fear that the persons so assembled will commit a breach of the peace, or will by such conduct provoke other persons to commit a breach of the peace, they are an unlawful assembly."
The actions demonstrated by storming the government headquarters fit the description above. If a group of protesters had disrupted the activities of, say, the White House or 10 Downing Street they would have faced even more serious punishments.