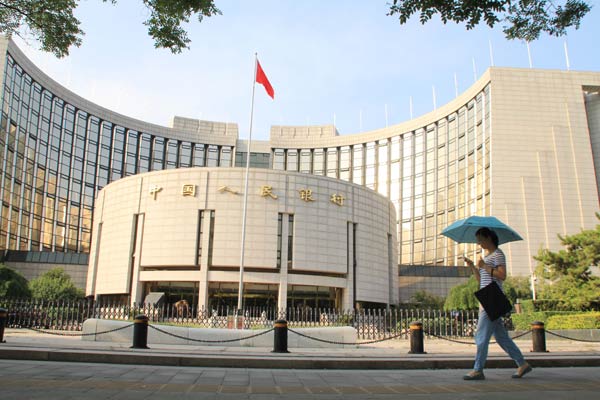 The headquarters of the People's Bank of China in Beijing. [Photo by Shi Yan/China Daily]
There has been speculation that a cut in interest rates and the deposit reserve ratio may be made to stimulate economy, but Changjiang Daily rules out the possibly:
That many place great hopes on a "double cut" has a lot to do with the policy's immediate effects on expanding investments and boosting economic growth. A "double cut" can significantly increase market liquidity and enterprises' funds, and such stimulus, to some extent, explains the country's rapid GDP growth in the past decade or so.
But it is also noteworthy that a "double cut" also has unwanted side effects such as inefficient and repeated investments, and the past cuts in interest rates and the deposit reserve ratio have resulted in overcapacity in heavy industries such as steelmaking and coal. This in turn has generated many "zombie" enterprises that struggle to make ends meet, adding more uncertainties to the country's long-term growth.
Relying on such fiscal stimulus, therefore, is more likely to slow down the country's economic transition. But that does not mean there should be no policy adjustments. To help reduce the costs of enterprises, the central bank, could cut the deposit reserve ratio moderately.
The truth is, after several rounds of cuts in interest rates and the deposit reserve ratio in recent years, China has little room to do it again. During last year alone it conducted a "double cut" five times, which has lowered the one-year benchmark bank lending rate by 25 basis points to 4.35 percent and the benchmark rate for one-year bank deposits by the same margin to 1.5 percent.
The deposit rates are even lower, meaning another interest rate cut would only sustain the economic growth at the cost of common citizens. The key to resolving the dilemma is an overhaul the financial system so that capital goes to sectors in need, not the already saturated ones.