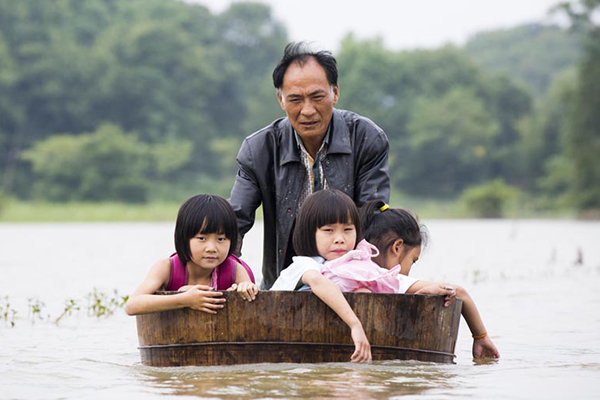 A man pushes a wooden basin in which his granddaugter sits through a flooded road at Lianhua village, Duchang county, East China's Jiangxi province, on June 27.
BEIJING - The People's Bank of China (PBOC), the country's central bank, urged effective and efficient efforts on Friday to ensure funding for flood relief and post-disaster rebuilding.
The PBOC called on banks to ensure timely transfer of funds and streamline loan approval procedures to help disaster-hit areas restore production.
Loan requests from these areas should be prioritized, it said in an online statement.
It also requires employees to guarantee the smooth operation of financial institutions and actively contribute to flood relief.
The central bank will inject pledged supplementary lending to the China Development Bank and the Agricultural Development Bank of China to support their loans to improve urban underground networks, water conservation projects and other flood reduction capabilities, it said.
Official data showed that the two policy banks have allocated over 11.3 billion yuan ($1.7 billion) in emergency lending to aid flood-stricken regions by early July.
In the first half of 2016, floods and geological disasters left 367 people dead or unaccounted for and caused more than 45.51 billion yuan in direct economic losses, data from the Ministry of Civil Affairs showed.