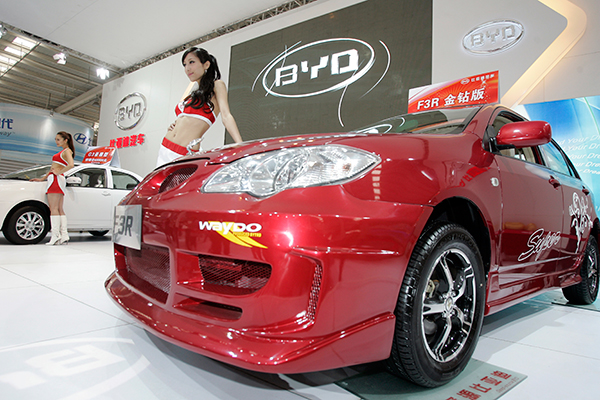 BYD cars on display at an auto show in Taiyuan, capital of Shanxi province. [Photo provided to China Daily]
Samsung Electronics Co Ltd bought a 3 billion yuan ($449 million) stake in Chinese electric-car maker BYD Co Ltd, which is backed by US billionaire investor Warren Buffett's Berkshire Hathaway Inc.
Shanghai Samsung Semiconductor purchased 52.26 million BYD shares at 57.4 yuan a share in a private placement that raised 14.5 billion yuan in total, according to a statement issued by BYD on Thursday.
The investment gives the South Korean group a 1.92 percent stake in BYD, making it the ninth biggest investor in the company.
BYD intends to use the proceeds of the private placement to fund an expansion in lithium-ion batteries production and research and development in new-energy vehicles.
The smartphone and memory chipmaker said last week an investment in BYD would strengthen Samsung's semiconductor business for cars. The two companies plan to cooperate in electric-vehicle components and promote automotive-related businesses. Last year China surpassed the United States for the first time to become the world's biggest electric-vehicles market. The Chinese government wants the sales of electric vehicles to exceed 3 million units by 2025.
Electronics makers like Samsung are competing for a slice of automotive sales as carmakers use more electronic sensors and displays in their push for more automated vehicles.
BYD has 24 production hubs in China. The company is to build a new battery factory in Qinghai province.
Its newly built factory in Shanxi province is expected to manufacture up to 5,000 electric cars, 5,000 electric special purpose vehicles and 2,000 trucks for industrial and mining works annually.
Du Xiaoying contributed to this story.