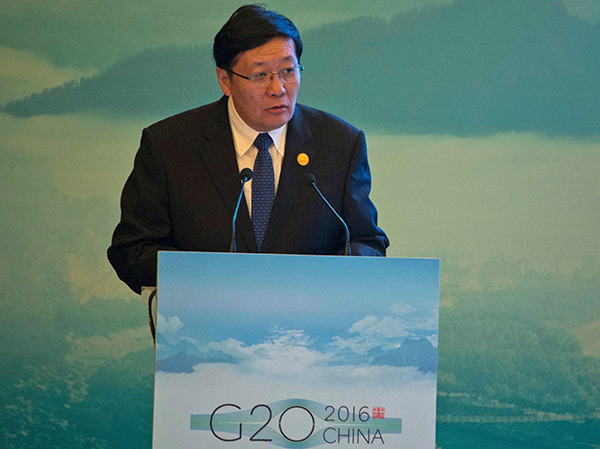 Lou Jiwei, China's Minister of Finance speaks at the High-level Tax Symposium held in Chengdu in Southwestern China's Sichuan province, July 23, 2016. [Photo/Agencies]
Innovative industries should be taxed rather than provided unconditional support, China's finance minister said at a high level tax symposium on the sidelines of the G20 meetings on Saturday.
Taxation should be in place in new emerging industries, including e-commerce, the digital economy and digital finance to better ensure taxation fairness, according to Lou Jiwei, China's finance minister.
"China has just implemented the reform by collecting tax from cross-border e-commerce industry, the level of which has been for long way lower than that of value-added tax," Lou said., "Low taxation level on imported goods does not help drive innovation for domestic companies."
Starting in April, retail goods purchased online will no longer be treated as personal postal articles but as imported goods, which carry tariffs, import VAT and consumption taxes, according to the Ministry of Finance.
Lou said at present it can be quite difficult to tax new emerging economies with more complex business models compared to traditional industries, and that taxation might run against some vested interests.
He added that taxation cannot effectively boost innovation if supervision is not in place.
An attendee from Brazil, who declined to be named, agreed and said that it makes sense to give beneficial policies to small and young enterprises in innovative industries, but the tax level should be adjusted when they grow.
"A growth-oriented approach can be more effective and more efficient," he added.