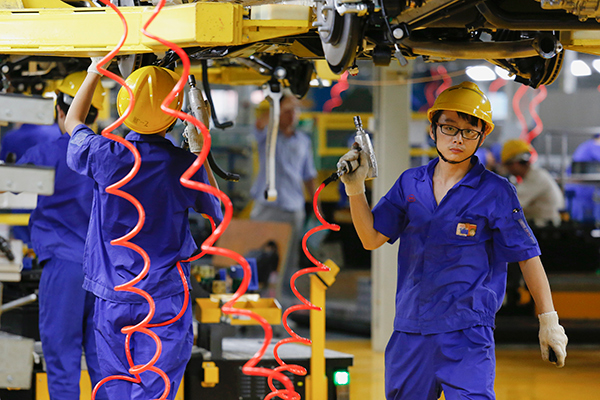 Workers at a BYD assembly line in Shenzhen, Guangdong province. [Photo/Reuters]
Chinese electric-car maker BYD Co Ltd will develop an electric streetcar network in smaller cities within the next five years to further expand its business, but some industry insiders say its plan lacks feasibility.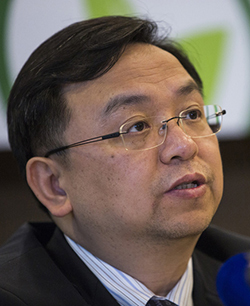 Wang Chuanfu, BYD chairman
BYD Chairman and Chief Executive Wang Chuanfu made the announcement during the company's shareholders meeting on Monday.
According to Wang, electric streetcars will be deployed in the country's second-, third- and fourth-tier cities, though he did not elaborate.
The company said it has already set up a light-rail transit research institute to pave the way for the future development of the business.
"Compared with the metro, construction of streetcar networks requires less time, capital and technology, and the cost of operation and maintenance is relatively low," said Cheng Tao, deputy head of the College of Urban Rail Transit at Shenzhen University.
"But due to their slower speed, the efficiency of streetcars is lower than that of subways. While subways can carry 12,000 passengers per hour, streetcars can only take about 7,000."
Cheng said the lower cost of construction, operation and maintenance of streetcar networks is something that governments in small cities would be able to afford. Investment and financing channels as well as forms of operation can also be diverse, he added.
"Therefore, it is easy to achieve and promote, while at the same time easing traffic pressure in those cities."
Yu Qingjiao, president of itdcw.com, a leading website on the new-energy industry, however, is not that optimistic about the outlook for streetcars.
Electric streetcars may work well in short-distance transportation, for example in tourist attractions in a city, he said.
"But when it comes to applying it across the city, its feasibility is low as it is closely related to urban planning. There is little possibility that a city can allocate a certain part of its land to building rail lines," Yu said.
"The development of streetcar networks in cities faces many difficulties."
Yu's view was echoed by another analyst who declined to give his name.
"Building a streetcar network will take up a lot of road resources in a city and it is not that viable as traffic in many cities is already very congested," said the analyst from Essence Securities.
However, he added that developing streetcar networks may lessen the financial strain on governments in terms of subsidizing electric buses.
"At present, the subsidy for an electric bus can reach 500,000 yuan ($76,219) per year or even more. That is a huge burden for governments. Streetcars, if propelled by power from cables, will help reduce the use of batteries, thereby contributing to savings in government spending."
BYD's Wang said the company's revenue is expected to top 100 billion yuan this year.