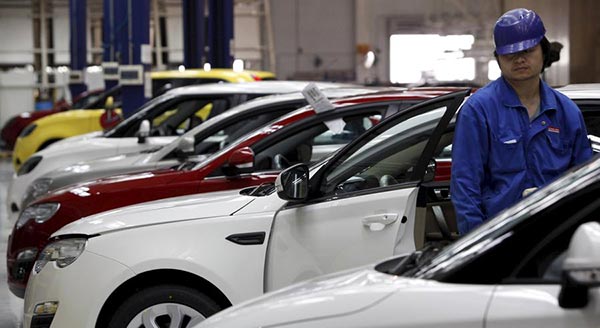 An employee works on an assembly line at an automobile factory of SAIC Motor in Shanghai in this April 20, 2012 file photo.[Photo/Agencies]
Major listed auto companies saw improved margin despite lower-than-expected sales growth, reported China Business News on Wednesday.
SAIC Motor Corp, the country's largest automaker by market cap, projected last year's net profit to grow 6 percent against a 5-percent sales increase, while new energy car manufacturer BYD reported 5.5 times surge in net profit.
The Shenzhen-headquartered automaker saw a 37.5 percent year-on-year growth in revenue to 80 billion yuan ($12.35 billion) in 2015, with net profit apart from non-recurring items jumping 2.78 times to 1.21 billion yuan, said BYD in its annual report released last week.
The growth was in part boosted by favorable policies on new energy cars, said the newspaper, adding that in BYD's major market Shanghai, the authority offers a 60,000 yuan subsidy to each hybrid car for sale, while subsidy on electric bus is about 377,000 yuan each under estimate.
New energy car sales reached 19.34 billion yuan last year, accounting for 24.2 percent of BYD's revenue and on par with its traditional petrol car business, according to the report.
The SAIC expected its car sales to total 5.9 million last year, increasing 5 percent year-on-year, and net profit to grow 6 percent to 29.65 billion yuan, the automaker said in an earnings preannouncement. Analysts said the higher margin was thanks to new car launch and improved sales structure.
Guangzhou Automobile Group reported 31.4 percent year-on-year increase in sales to 29.42 billion yuan and 32.5 percent net profit growth to 4.23 billion yuan as led by heated self-owned brands, said the company in its annual report.
FAW Car Co ranked at the bottom among listed automakers, with only 52.95 million yuan net profit last year, decreasing 75 percent from a year ago. The company's revenue slumped 21.3 percent to 26.66 billion yuan, according to its filing to Shanghai Stock Exchange.