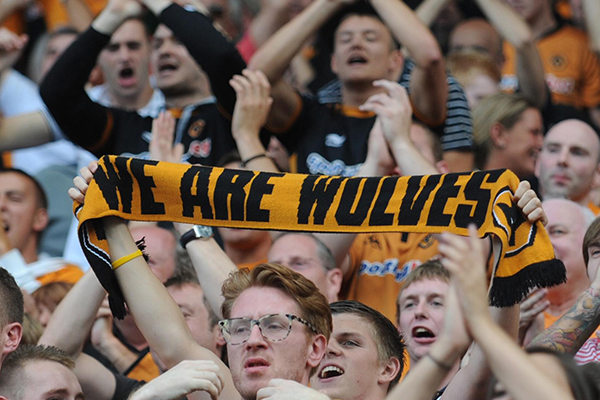 Wolverhampton Wanderers fans celebrate at the final whistle during a Barclays Premier League match at Ewood Park, Blackburn. [Photo provided to China Daily]
Wolverhampton Wanderers is now officially in Chinese ownership, after the West Midlands soccer club's sale on Thursday to investment conglomerate Fosun International Ltd for 45 million pounds ($59.7 million).
The sale transferred 100 percent ownership of the club, commonly known as Wolves, and all its assets from former owner Steve Morgan and his Bridgemere Group to Fosun headed by its chairman, billionaire Guo Guangchang.
"We are delighted to have completed the deal to become the new owners of such a famous and historic club as Wolves," said Jeff Shi, who led the negotiations on behalf of Fosun and will become the club's representative and board member. "Soccer is enjoying a huge growth in China. As part of our strategy, it makes perfect sense to buy a great soccer club."
Wolves ended last season in 14th place in the Championship - the second tier of English soccer behind the Premier League - having won promotion from League One in the 2013-14 season. Wolves last played in the Premier League for a three-year spell from 2009 to 2012, before tumbling down two divisions in consecutive seasons. Trophies have been hard to come by for the struggling club since the "golden years" of the 1950s.
"Our goal is crystal clear - we will do our very best to help take Wolves back to the Premier League as soon as possible and to stay there. We believe the club and the fans belong at the top of English soccer and getting there is our first and top priority," Shi said.