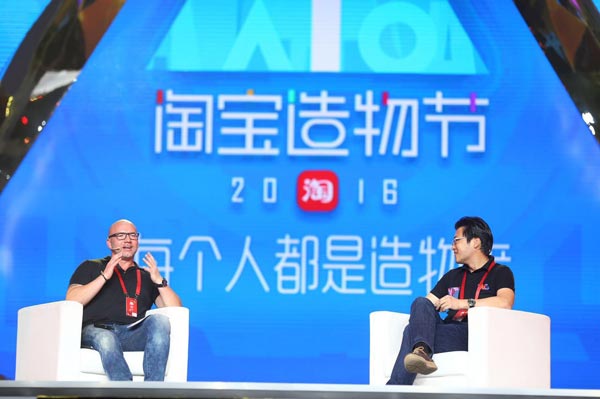 Brian Wallace (left), chief marketing officer of Magic Leap, and Dong Benhong (right), chief marketing officer of Alibaba, talks at the Taobao Maker Festival in Shanghai. [Photo provided to China Daily]
The US-based Magic Leap Inc is likely to launch augmented reality glasses as its first product according to an executive from the tech startup's key investor, Alibaba Group.
Dong Benhong, chief marketing officer of Alibaba, said on Friday that Magic Leap was likely to launch light, easy-to-wear AR glasses as a new product.
"And it hopes to invite you to become the first to try out the product," he told an audience attending the Taobao Maker Festival in Shanghai after completing a dialogue on stage with Brian Wallace, the chief marketing officer of Magic Leap.
Magic Leap announced earlier this year $793.5 million in new funding, led by China's e-commerce giant Alibaba. The company, which is yet to launch any product, is valued at $4.5 billion.
Wallace, who visited China for the first time, said he was very excited about the market potential for his company in the country. "What I am seeing here today is the spirit of creation and entrepreneurship," he said.
He demonstrated how Magic Leap's technology was going to change people's shopping behaviors, in a short video.
The video, which was shown to the public for the first time on Friday, showed a pregnant woman who wanted to decorate her nursery room could use voice control to choose whatever she wanted to buy.
By giving a voice order, she could actually see a digital light on the real desk, so that she could be sure whether or not the item she wanted to buy could match the entire decoration style in the room via augmented reality technology.
The AR technology of Magic Leap is only one part of Alibaba's inaugural Taobao Maker Festival. The three-day event in Shanghai aims to celebrate online merchants by showcasing creative ideas and designs to the world, including cutting-edge gadgets, fashion and high-tech products.
The festival is Alibaba's latest effort to engage young people on its online shopping ecosystem. Zhang Yong, Alibaba's chief executive, said in a previous event that the event was dedicated to those young people who enjoyed innovation, creation and who were eager to put their ideas into action.
"Users of Alibaba are becoming younger and younger. By leveraging new technology and new models, we want to encourage young people to create and innovate more," he said.