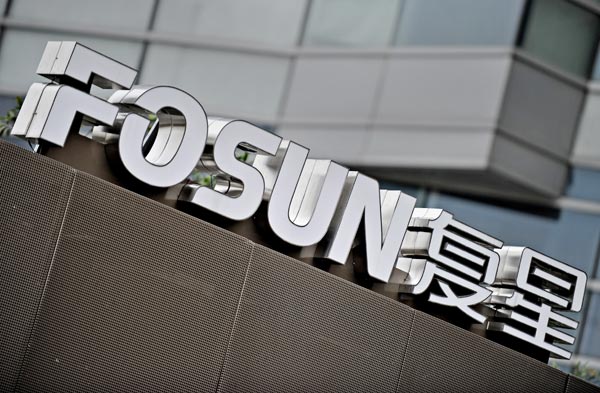 A view of Fosun Group signage in Shanghai. [Photo/IC]
Chinese conglomerate Fosun Group will invest some 11 billion yuan ($1.68 billion) in a large, high-end tourism property project in Sanya, South China's Hainan province, sina.com.cn reported on Sunday.
The 530,000-square-meter Sanya Altantis, expected to open in 2017, will offer services ranging from hotel, dining, shopping to entertainment, exhibition and marine culture experience.
"There will be 60,000 marine life in the aquarium, 16 themed restaurants, and five deep sea suits, the only ones in Greater China, " said QianJiannong, vice-president of the Fosun Group and president of Fosun Tourism and Business Group.
"The salable real estate includes 807 units of sea view apartments and 197 units of ocean villas," he added.
The Sanya Altantis, located in Haitang Bay, involves much higher investment than the world's two other Altantis hotels respectively in Bahamas and Dubai, according to Qian.
The EBIT (earnings before interest and tax) of Altantis in Dubai basically exceeded those of nearly 100 chain hotel brands in Europe, he noted.
The Sanya project is expected to have an annual business turnover of around $600 million, while business turnover for top-notch hotels in China stands around 600 million yuan, said Cao Minglong, head of the project's operator.
Fosun has made frequent investment moves in recent years. It bought London's Lloyds Chambers in 2013 and Milan's historic Palazzo Broggi in 2015. It also closed investment deals with British tour operator Thomas Cook Group, French resort brand Club Med, and Canadian circus and entertainment company Cirque du Soleil.