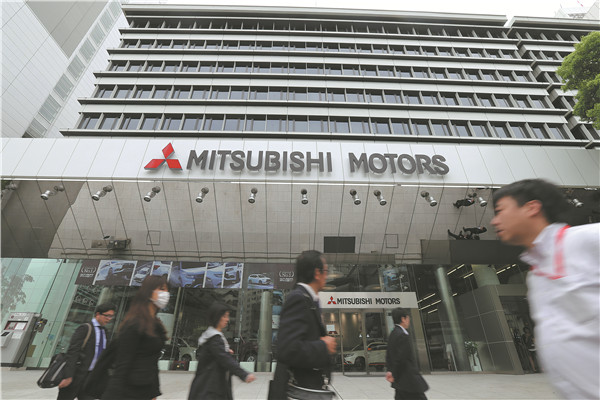 Pedestrians walk past the head office of Mitsubishi Motors Corp in Tokyo's Minato Ward, Japan, on April 21, 2016. Mitsubishi admitted on April 20 that it had dressed up fuel efficiency data for four models, affecting a total of 625,000 units. [Provided to China Daily]
Mitsubishi Motors looks to have a bumpy road ahead as fallout from the scandal surrounding the falsifying of its fuel economy data intensifies.
The automaker announced on Wednesday that its President Tetsuro Aikawa and Executive Vice-President Ryugo Nakao would resign from June 24 as a result of its cheating in fuel economy data, which involved more than 600,000 cars in Japan, and its use of dishonest testing since 1991.
The announcement came after Mitsubishi made known it would sell 506.6 million newly issued shares for $2.2 billion to Nissan Motor for a 34 percent stake after its market value nosedived. The deal, which is expected to be completed by the end of the year, will make Nissan the largest shareholder of Mitsubishi.
However, the scandal will not end with resignations and acquisition. As Mitsubishi and Nissan will remain separate brands, some industry insiders say they have to face a more tricky problem in the Chinese market where one international automaker cannot have more than two joint ventures.
Nissan already has one joint venture, Dongfeng Motor, but Mitsubishi has two - GAC Mitsubishi and Southeast Motor.
Some don't think the automaker is in a dilemma. Yale Zhang, managing director of consultancy Automotive Foresight, said Mitsubishi could be saved as Southeast Motor is more about technology transfer than existing as a conventional joint venture.
Southeast Motor is a joint venture between Fujian Motor and Taiwan-based China Motor, in which Mitsubishi holds stakes. The company only sold 5,000 localized Mitsubishi sedans last year and thus became a marginalized brand in the Chinese market where 21 million passenger cars were sold in the year.
John Zeng, managing director of LMC Automotive Shanghai, said people are "too concerned" about the two-joint venture rule.
He said chances are slim that GAC Mitsubishi and Southeast Motor merge into one but that policy enforcement officials could have different interpretations as the case of Nissan purchasing Mitsubishi and allying with Renault is complex.
GAC Mitsubishi said it has been closely watching Mitsubishi's moves but it is not clear what lies ahead, 21st Century Business Herald reported.
The joint venture specializes in SUVs but its sales in the first four months combined were merely 8,169 units, a 56.3 percent slump year-on-year, despite SUVs being the fastest growing segment in the country, according to the China Passenger Car Association.
The GAC Mitsubishi management blamed the slack performance on its small portfolio. Mitsubishi has localized only two SUV models at the joint venture - the ASX and Pajero.
Plans were in place to improve that situation. Before the scandal broke, the joint venture, which has a designed annual capacity of 300,000 units, unveiled its plan to introduce at least 10 models to China within five years to beef up its lineup.
Analysts said that plan would still help and would be, at least, better than doing nothing, but the automaker may spend more time groping in the darkness of uncertainty before it can find a way out of its problems.
lifusheng@chinadaily.com.cn