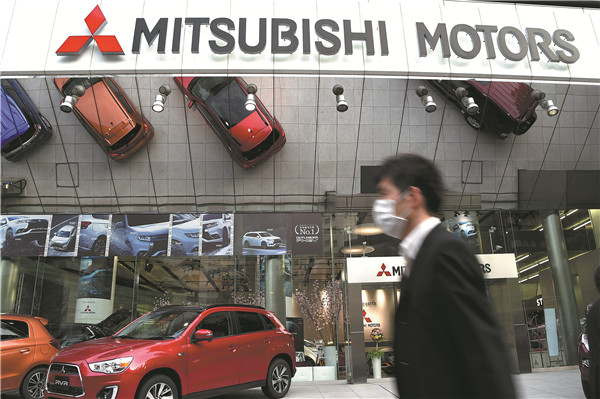 Mitsubishi Motors' headquarters in Tokyo. The Japanese automaker admitted on April 20 that it manipulated fuel economy data in more than 600,000 vehicles. CHINA DAILY
Automaker's market value has plummeted since it admitted to cheating on fuel economy data
There may emerge opportunities for Chinese automakers to acquire Mitsubishi Motors now that its market value has nosedived after it admitted to cheating on its fuel economy data, experts said.
"It may be a good opportunity for rich companies to buy the Japanese automaker or its technology. Its engines and SUV platforms are not bad," said Yale Zhang, managing director of Shanghai-based consultancy Automotive Foresight.
SUVs are the fastest-growing segment in the Chinese market and he said Chinese automakers like Great Wall and BYD used to be major purchasers of Mitsubishi engines.
Ou Duorui, a columnist at Sohu.com, said in an article that a large Chinese automaker is making preparations with the help of international finance and law firms to purchase Mitsubishi but he did not give more details.
The Japanese automaker saw its market value almost halved within one week, with $3.7 billion wiped off, since it admitted on April 20 that it used improper testing methods that involved more than 600,000 cars in Japan. Days later, it said that the use of dishonest testing dated back to 1991.
But Mitsubishi's managing director Yutaka Tabata said the automaker has a strong financial structure and balance sheet shows it has $4.23 billion in cash to cover potential costs, according to Reuters.
It reported that analysts estimate the automaker could be required to pay close to $1 billion to compensate Japanese mini-vehicle customers for "eco-car" taxes and extra fuel costs.
Mitsubishi overinflated the tires on four mini-car models sold in Japan so that they would show better fuel consumption rates 5 percent to 10 percent better than actual running rates. The testing method was different from what the Japanese government has required.
The scandal included 157,000 eK Wagon and eK Space Mitsubishi models, as well as 468,000 Dayz and Dayz Roox Nissan models that were supplied to Nissan by Mitsubishi.
"Customers bought our cars based on incorrect fuel-economy data," Mitsubishi President Tetsuro Aikawa told reporters during a news conference in Tokyo on April 26. "I can't help but apologize."
The automaker said that "taking into account the seriousness of these issues, we will also conduct an investigation into products manufactured for overseas markets".
Although it is not sure whether its cars sold elsewhere are affected, experts say its sales will further shrink in China.
Mitsubishi and its two joint ventures - GAC Mitsubishi and Southeast Motor - sold 61,287 cars in China last year, a slump of 15.4 percent, although the overall Chinese market saw a 7 percent growth from 2014.
The scandal will surely deal a further blow to its performance in the country, although it has long suffered from a lukewarm brand image among Chinese customers due to a previous cover-up about safety defects, said Zhang Zhiyong, a Beijing-based auto analyst.
He said the lack of a clear strategy has limited its development in the market despite its technical advantage in SUVs and that a possible top management shakeup in Tokyo as a result of the misconduct might impede its plan announced at the just concluded Beijing auto show to introduce more models into the country.
Mitsubishi is the first major carmaker to report misconduct involving fuel economy tests since German automaker Volkswagen was discovered in 2015 to have cheated on diesel emissions tests that involved more than 11 million cars worldwide.
South Korean carmakers Hyundai and Kia in 2014 agreed to pay $350 million in penalties to the US government for overstating their cars' fuel economy data. They also resolved claims from car owners.
lifusheng@chinadaily.com.cn