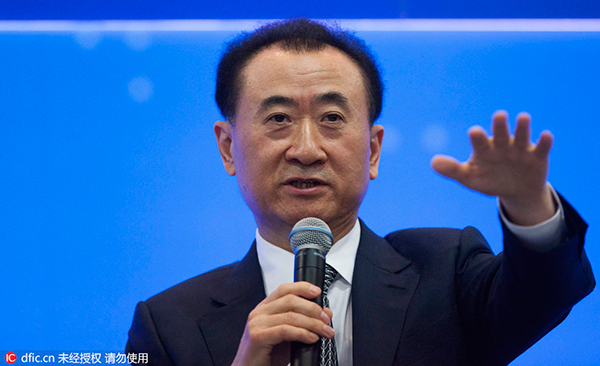 Wang Jianllin speaks during a financial forum in Hong Kong, China, Jan 18, 2016. [Photo/IC]
Chinese conglomerate Dalian Wanda is expecting a formal response from Madrid authorities on the future of a multimillion euro skyscraper renovation project in the Spanish capital, said Wang Jianlin, the owner of the group.
In June 2014, the Chinese property group acquired Espana Building, a Madrid landmark in the commercial heart of the capital for 256 million euros ($297 million) from banking corporation Santander Group.
The sale of the historic 25-story skyscraper, which was Europe's tallest building when it opened in 1953, was completed on the sole condition that the facade and the side walls of the building remained intact.
The renovation of the iconic building has been tainted by ongoing tensions between Wang Jianlin and the local Madrid government over the Chinese group's plans to completely demolish the landmark and turn it into a luxury hotel and shopping mall.
Wang hinted that it is still discussing the renovation project with local authorities, adding that a final response from the Madrid government is still pending.
"We are now waiting for them to give us an official response", Wang said in a program hosted by China Central Television (CCTV).
Meanwhile, Spanish press reported that the Chinese group will have to face additional costs to preserve the structure of the building.
Property mogul Wang has shown a special interest in developing real estate projects in Spain to attract Chinese travelers to the Mediterranean country.
"Wang Jianlin declared in the past that he intended to invest 3 billion euros in Spain (through various projects in the real estate and leisure sectors) in the next two years," said Ivana Casaburi, Director of the ESADE China Europe Club, an association of Chinese companies investing in Europe promoted by Spanish business school ESADE.
The group's aspiration is to develop hospitality projects for China's middle class, developing luxury complexes adapted to the needs of Chinese travelers, and therefore, more attractive for these types of consumers than resorts managed by Western brands, added Casaburi.