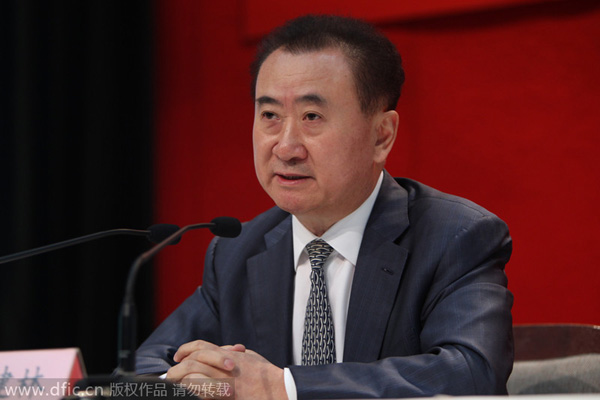 Wang Jianlin, Chairman of Wanda Group, at a press conference in Shanghai, March 21, 2014. [Photo/IC]
Ahead of the Shanghai Disney Resort inauguration on June 16, Chinese conglomerate Dalian Wanda Group sent a signal to its rival that it plans to remain the industry leader in China.
Wang Jianlin, chairman of the Chinese property group, warned Walt Disney Co and its Chinese partner and State-owned group Shanghai Shendi that the new theme park will struggle to compete against its entertainment parks in China.
"It will be very hard for the Shanghai Disney Resort to turn a profit even in two decades because it has to compete against the existing facilities run by Dalian Wanda Group", Wang said in a program on State broadcaster China Central Television (CCTV).
The Shanghai Disney Resort is an outdoor theme park that will be affected by the city's cold winters and rainy seasons, Wang explained during the Dialogue program broadcast by CCTV.
The property tycoon also noted that the high cost of admission tickets is likely to have a negative impact on the performance of the Shanghai-based $5.5 billion theme park.
Regular admission at the Disney-themed park has been set at 370 yuan (around $56), while peak pricing for holidays and weekends will reach 499 yuan.
The park's opening in Shanghai is expected to stir up one of China's most lucrative industries.
Last year, the theme park industry in China generated revenues of 230 billion yuan, according to the Chinese Tourism Academy.
The Shanghai Disney Resort is Disney's sixth resort destination worldwide and the much-anticipated inauguration has generated great interest.
In fact, tickets for Shanghai Disneyland have been booked for the first two weeks after its inauguration.
China's leading online tourism agency, Ctrip.com, estimated that Shanghai Disney will attract 16 million visitors annually and generate 50 billion yuan in spending from visitors to the park.
Meanwhile, Dalian Wanda has more than 15 theme parks in China and plans to have opened 400 children's educational parks by 2020, with the parks being central to the group's plans to expand in the cultural and entertainment sector.