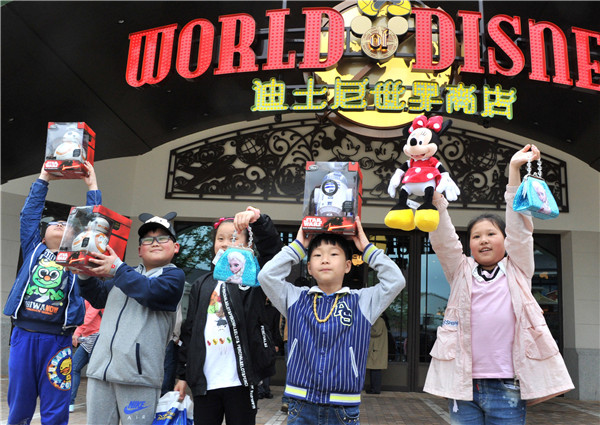 Children flaunt their newly bought gifts at the Disney store, the biggest park-operated retail shop in Asia, in Shanghai over the weekend.YANG YI/CHINA DAILY
Retail shop, restaurants, sculptures and artificial lake offer sneak preview of the wonders that will unfold in June
Still a month away from its official opening, Walt Disney Co's latest theme park resort in Shanghai is already a popular destination attracting thousands of Chinese.
A Disney store-the biggest park-operated retail shop in Asia-and restaurants in a public, commercial strip of the Shanghai Disney Resort opened on Saturday to long lines. Locals flocked to the area to stroll around its artificial lake and snap pictures with a fountain sculpture of Mickey Mouse on a steamboat. Disney also began trial operations for the park-its sixth worldwide and first in the Chinese mainland-over the weekend.
Since the metro station for the Disney grounds opened two weeks ago in Shanghai's Pudong district, the area has become a popular destination ahead of the resort's June 16 debut. The world's largest entertainment company is banking on 330 million Chinese living within three hours of the site to pay for visits to the $5.5 billion resort, famous for its iconic castle and themed rides. China's government, in turn, is relying on increased consumer spending to boost an economy growing at the slowest pace in 25 years.
"I remember watching Mickey Mouse cartoons when I was young, so it's quite exciting to see Disneyland for real," said Wang Yidan, a 30-year-old technician who bought a Mickey Mouse hat for 99 yuan ($15) at the World of Disney store for his daughter. "It's done up quite intricately and it's something different to bring her to compared with the parks and zoos elsewhere in China."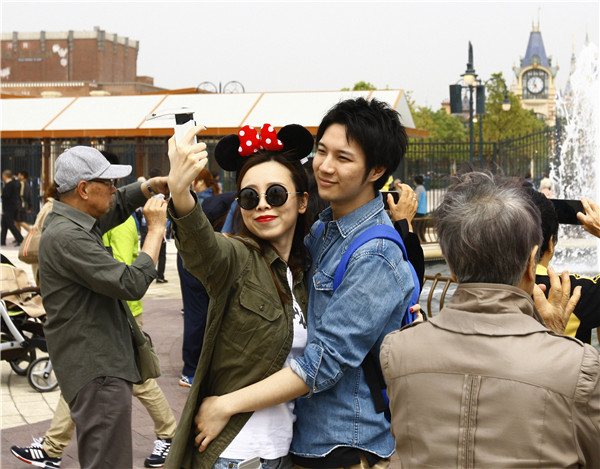 A young couple take a selfie at the Disneyland in Shanghai at the weekend during the theme park's trial operation.FANG ZHE/XINHUA
The theme park is expected to attract 15 million visitors annually in the short term and raise demand for travel in Shanghai, China International Capital Corp. analysts led by Xin Yang wrote in a note dated over the weekend. That should help boost earnings of transport operators such as Spring Airlines Co, Shanghai International Airport Co, and Jiangsu Expressway Co, the analysts said.
An estimated 30,000 visitors were at the Chinese resort on Sunday, while 10,000 employees, their relatives and other invited guests were allowed into the theme park for its trial run on Saturday, the State-owned Shanghai Daily reported Monday, without citing any sources.
Over the weekend, visitors posed for photos among well-tended lawns and shrubs, crowded along the strip known as Disneytown, with rows of shops and restaurants including a Samsonite outlet and an eatery run by celebrity chef Wolfgang Puck.
Among the crowds, some held tickets to enter the 963-acre park and try out rides as part of Shanghai Disneyland's six-week trial run, which kicked off on Saturday. Participants were limited to the resort's employees, partners and stakeholders.
Ride operator Kevin Chang, 26, took his wife and parents with him on Saturday. The couple wore costume hats-a blue, big-eared Stitch from Disney's Lilo & Stitch franchise and Minnie Mouse-for the big occasion.
"I operate the Tron ride, which is the scariest in the whole park, so it's going to be fun to take it with my wife and family," he said.
Disney Chief Executive Officer Robert Iger has called the Shanghai project the company's greatest opportunity since Walt Disney bought land in Florida in the 1960s used to build the theme park there. The Shanghai resort boasts two hotels and the largest Disney castle.
Iger met with Chinese President Xi Jinping on Thursday in Beijing. Xi cited Disney as an example of expanded cooperation between US and Chinese firms.
Consumption among upper-middle-class and affluent households in China is increasing at 17 percent per year and will account for $1.5 trillion in incremental spending by 2020, according to Boston Consulting Group Inc. The country's growing middle class and young Chinese will be a driving force for consumption growth, according to the researcher.
Outside Disney's theme park, a large portion of the crowds over the weekend were elderly Chinese. Many chose to munch on their own snacks on public benches.
Shanghai retiree Liang Zhen, 85, said while she came for the novelty factor, she preferred the city's museums and parks to the Disney grounds. "Most of us are here just to take a look because it's something fresh."
For 78-year-old retiree Wang Xingmiao, the visit gives him a glimpse of America.
"It opens the eyes of old people and young people to see something like this," said Wang, who traveled an hour on the subway to get to the park.