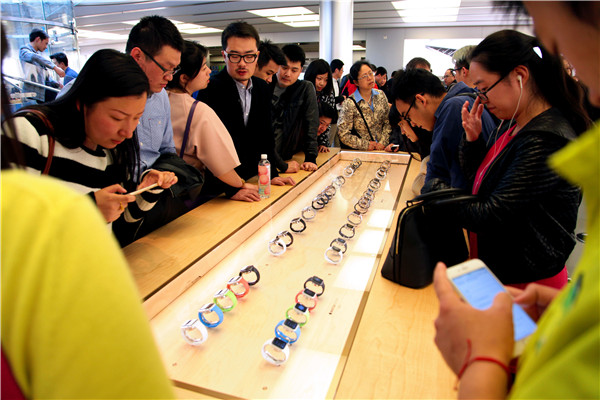 Customers experience Apple Inc's products at its second retail store in Tianjin, which opened in March.[Photo/CFP]
Flow-on impact from 26% fall in mainland business in wake of slipping iPhone sales by US technology giant
Apple Inc's major Chinese suppliers saw their revenues hit hard in the first quarter, in the wake of the technology giant's latest quarterly earnings which showed a 13 percent drop in revenue.
Revenues at Lens Technology Co Ltd, a glass cover supplier to Apple, slumped 35.8 percent to 2.7 billion yuan ($414 million) in the first three months. Its net profit also headed south, falling to 165 million yuan, down 59.3 percent year-on-year.
Apple's battery supplier, the Shenzhen-based Desay Corporation, saw its revenue fall 16.6 percent to 1.5 billion yuan, and its net profit plunged 34.3 percent to 38.9 million yuan.
Electric motor provider Jinlong Machinery & Electronics Co Ltd, meanwhile, witnessed its net profit retreating 19.8 percent year-on-year to 85 million yuan, according to the company's first-quarter earnings report.
Shares in Lens Technology dipped 6.65 percent to 72.14 yuan on Wednesday and Desay shares moved back 0.72 percent to 36 yuan. Shares in Jinlong Machinery & Electronics were down 0.36 percent to close at 16.74 yuan.
Apple's latest quarterly earnings, reported late last month, showed a 13 percent drop in revenue as sales of iPhones slipped, in a performance marked by its first drop in quarterly revenue in 13 years.
China proved to be a particular weak spot with sales there diving 26 percent to $12.49 billion, due to weak demand for iPhones.
Apple responded by cutting the prices of its major suppliers, with the prices of some components squeezed by as much as 30 percent, according to the report from National Business Daily.
The report said Apple's suppliers reacted by continuing a process of diversification, starting to provide components to domestic smartphone markers and tapping into the automobile market.
Desay Corporation, which supplies more than half of the battery products for iPhones, has started to enter the domestic smartphone market.
Battery orders from Apple have accounted for 70 percent of the company's revenue, according to its annual report, and the bad performance of Apple in the first quarter directly led the decline in profits.
The company is beginning to expand into the market of supplying domestic smartphone manufacturers, including Xiaomi Corp, Oppo Electronics Corp and vivo Mobile Communication Technology and enter into the PC market.
Lens Technology in turn is trying to move into the intelligent automobile sector, with an aim to offer glass covers to US electric automaker Tesla Motors Inc.