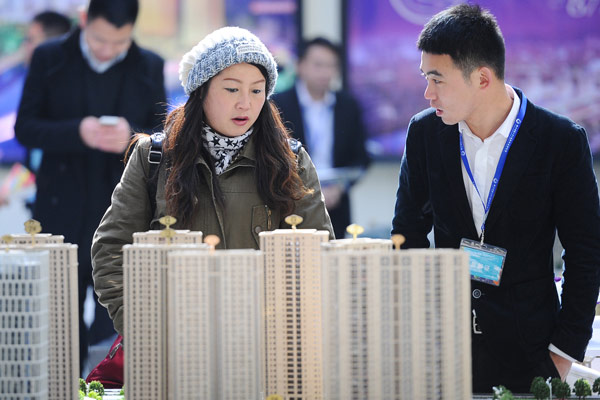 A woman talks with a salesman at a property market fair in Hangzhou, Zhejiang province.[Photo/China Daily]
China's property sales will slow over the next 12 months, but remain healthy, rating agency Moody's said in a report.
"Inventory levels in first- and second-tier cities will rise slightly because of an increase in new housing starts and our expectation of a slowdown in sales growth, but will remain close to the low levels recorded in 2013," said senior credit officer Franco Leung.
For the next 12 months, the residential property market should grow by a single-digit percentage, the report said.
The projections reflect the high base of comparison against the second half of 2015 and the first quarter of 2016, when government action helped sales.
In floor terms, sales rose 33.1 percent in Q1, much higher than the 6.5-percent gain in 2015, data from the National Bureau of Statistics (NBS) showed.
Rising land prices in higher-tier cities and the ongoing destocking in lower-tier cities will result in slowing sales and increased competition among developers with continued pressure on developers' profits, the report said.
Moody's also expects limited benefit from any further stimulus. Selective regulatory tightening in some higher-tier cities with rapid price growth will reduce property demand in those cities, the report said.
Regulatory measures will likely remain broadly supportive, it said, adding the government will focus on lower-tier cities where inventories are still high.