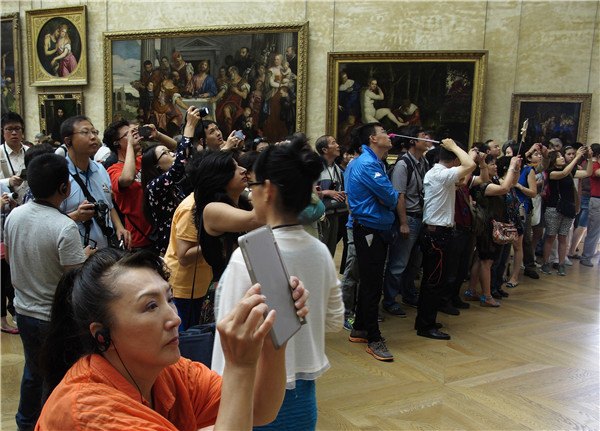 Chinese visitors at the Louvre Museum in Paris.JIANG DONG/CHINA DAILY
Last Christmas, I decided to take some time off work to go home to spend time with my family during the holidays.
It was good to be back in Madrid and disconnect from the daily routine of Beijing.
The last thing I was expecting when rushing my Christmas shopping was to be greeted by a loud Huanying Guanglin (welcome in Chinese) from an Asian-looking shop assistant.
For a short moment, I stared blankly at the girl wondering if she had actually greeted me in Chinese.
My confusion ended quickly when a group of Chinese tourists appeared behind me ready to make use of their credit cards.
The growing number of Chinese tourists traveling to Spain has in recent years offered lucrative opportunities for local companies.
However, there is still a widespread ignorance in Spain about which marketing strategies can successfully attract more Chinese travelers.
Spain is still in its infancy when it comes to attracting Chinese tourism. Last year, the country welcomed 320,000 Chinese tourists, according to official statistics.
Nonetheless, estimates suggest that the number of annual Chinese visitors to Spain will increase to one million by 2020.
Hence, the importance of working now on a good strategy to approach this booming market.
In order to adequately face the rising wave of Chinese tourists, hospitality chains and department stores in Spain's largest cities have started hiring sales assistants that can communicate in Chinese to woo these travelers.
Some selected companies have also started to introduce Chinese cultural elements to make the visitors more at home.
During my shopping spree, I went past the inauguration party of a new flagship store of a well-known Spanish shoe brand.
Waiters at the launch party were serving plates of chic canapes and baozi, the Chinese dumplings.
A group of Chinese tourists was so amused to see their staple food on the silver trays that decided to enter the shop and take pictures of it. The selfie moment with the traditional buns was then followed by some wandering around and shopping.
For me, it was surprising to see how such a small thing could trigger a positive response from the travelers.
In fact, one of the things that I have noticed about living in China is how grateful and positively surprised Chinese are when foreigners show interest in their culture and customs. Therefore, firms willing to attract Chinese customers will need to work on developing a deep understanding of their preferences and tastes.
As an example, Spain's largest department store chain El Corte Ingles invited four Chinese bloggers to spend a holiday, all expenses paid, in the Spanish capital so that they could show the wonders of the city to other Chinese travelers.
The department store notes that these types of initiatives are proving to be extremely successful and now Chinese travelers represent 50 percent of their foreign customer base.
Despite these few positive examples, most Spanish entrepreneurs do not have a clear idea of how to market their services to Chinese audiences. For this reason, Chinese groups like Dalian Wanda are so eager to purchase properties in Spain to turn them into hotels and shopping malls specially designed for Chinese tourists.
These companies have the know-how and the resources to attract a large number of Chinese travelers. Since local competition has not yet developed a clear strategy it can be relatively easy for them to take on this booming market.
It is crucial for Spanish hospitality chains and stores to position themselves as being "Chinese friendly" now before the big Chinese hospitality companies start opening their own franchises in the country.
Contact the writer at emmagonzalez@chinadaily.com.cn