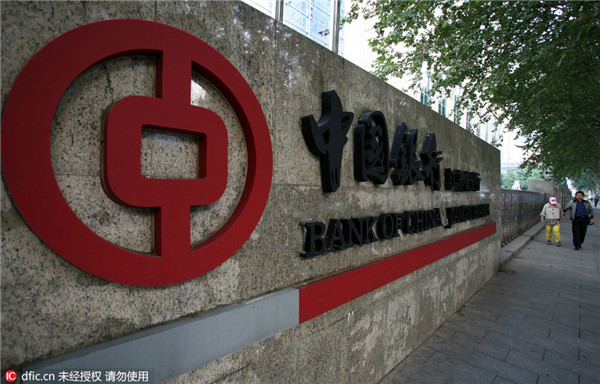 View of a signboard of Bank of China (BOC) in Huaian city, east China's Jiangsu province, 21 September 2011.[Photo/IC]
Bank of China Ltd announced on Monday evening it is actively preparing for China's relaunch of a pilot program on non-performing loan securitization.
The People's Bank of China, the central bank, and the China Banking Regulatory Commission named six Chinese banks, the five largest State-owned commercial lenders by assets plus China Merchants Bank Co Ltd, as the first batch of participants to explore NPL securitization as a way to dispose of these loans from their balance sheets.
The regulators set 50 billion yuan ($7.7 billion) as the initial quota for the six banks to test NPL securitization. Among the total, Bank of China has been planning to issue 1 billion yuan of securities backed by non-performing assets since the second half of 2015, Beijing-based Caixin Media reported.
Wang Zuji, president of China Construction Bank Corp, the nation's second-largest State-owned commercial lender, speaking after a news conference on the bank's 2015 annual results, said: "The China Banking Regulatory Commission is doing research on NPL securitization. Once the policy framework comes out, each bank will start selling its own NPL securities at roughly the same time. Like other banks, we're also conducting studies on this type of products."
"Every bank is very much in need of NPL securitization as a way to liquidize assets and improve the recovery rate for bad loans," he added.
At the end of 2015, Chinese commercial banks reported 1.27 trillion yuan in NPLs, up 51 percent from the previous year. The NPL ratio increased by 42 basis points to 1.67 percent, according to statistics from the CBRC.
With the continued rise in NPLs, banks have stepped up their efforts in dealing with bad loans. Bank of China said on Monday the amount of NPL principal recovery for the bank rose 46 percent to 101.3 billion yuan last year.
In spite of the banks' need to clean up their balance sheets, Fitch Ratings, a global provider of credit ratings and research, said: "Prospective Chinese NPL securitization transactions will be challenging for investors due to hard-to-predict cash-flows and an uncertain judicial process. These factors may make such transactions difficult to rate at an investment grade level on an international rating scale."
Fitch said the objective of off-balance-sheet treatment may itself prove hard to achieve if lenders continue holding subordinated tranches or if banks invest heavily in securitized NPLs from other banks. In past deals, subordinated tranches consisted of 20 to 50 percent of the capital structure.