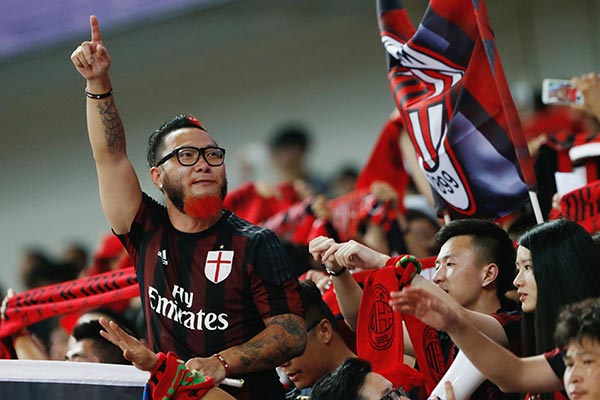 Fans of the AC Milan soccer club at a contest between the team and Real Madrid in Shanghai.[Provided to China Daily]
Consortium begins exclusive negotiations, says the team's holding company, Fininvest
A group of unidentified Chinese investors are in exclusive talks to buy AC Milan, the Italian Serie A soccer club, according to Fininvest, the holding company for the team.
Fininvest, which is controlled by former Italian prime minister Silvio Berlusconi's family, said the club is valued at about 700 million euros ($797.5 million), including debt.
After a month of preparing legal documents, Fininvest began the exclusive discussions with the Chinese investors, said an unidentified official.
The negotiations would be between the consortium and Fininvest, although the makeup of the Chinese investor group was not clear.
"Fininvest has reached an agreement with a group of Chinese investors for a period of exclusivity to discuss the sale of a stake in Milan AC. A memorandum of understanding also was signed, from which more detailed negotiations are set to begin," a Fininvest statement said.
The exclusivity period is about one month, during which either party can stop the negotiations without paying any fees.
The decision to sign a memorandum of understanding and enter into exclusive talks was made by Fininvest CEO Pasquale Cannatelli at a board of directors meeting on Tuesday.
Earlier this month, media reports said Alibaba founder Jack Ma was interested in buying AC Milan, but Ma dismissed the reports.
Additionally, media reports linked Baidu CEO Li Yanhong to the talks. A representative of the Chinese search engine declined to comment.
Chinese interest in Italy's Serie A clubs reflects the country's positive attitude toward Italian soccer, whose games were among the first broadcast in China in the 1980s.
Simon Chadwick, a professor of sports enterprise at Salford Business School in Manchester, England, said Italian soccer clubs generally have suffered from underinvestment in the past decade.
Chadwick said he believes that one of the reasons there has not been a significant interest from China in buying English clubs is because they are too expensive.
"For example, if you were interested in buying Manchester United, you'd be looking to pay upward of 1 billion pounds ($1.44 billion). Whereas to buy AC Milan, which in global terms is arguably just as powerful as Manchester United, it is going to cost you considerably less," Chadwick said.