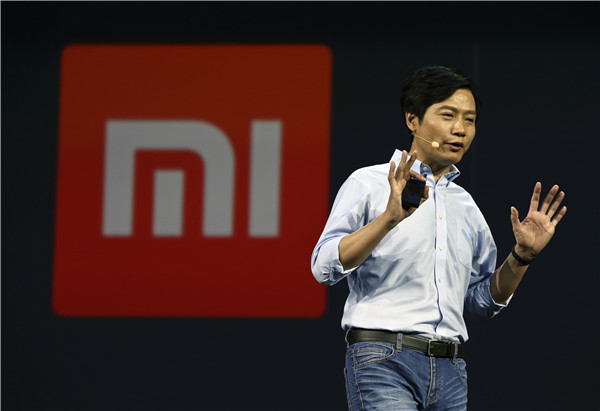 Lei Jun, founder and CEO of Xiaomi Corp, at the company's new product release ceremony on Tuesday in Beijing.FENG YONGBIN/CHINA DAILY
Firm makes latest bid to boost presence in mid-end market amid fierce competition
Xiaomi Corp unveiled its largest-ever-screen smartphone and the latest update to its popular Android-based operating system on Tuesday, in a move to win back the market share it is losing to Huawei Technologies Co Ltd in China.
Lei Jun, founder and CEO of Xiaomi, said the Mi Max, equipped with a 6.44-inch screen, is perfect for watching movies and playing games. In comparison, iPhone 6S Plus, Apple Inc's largest-display smartphone, only has a 5.5-inch screen.
"Our users often spend four to five hours on smartphones everyday. We hope the super big screen can offer them the best video-watching and game-playing experience," Lei said.
Mi Max also comes with a large battery to solve the problem that big-screen handsets are often quite power-hungry. Based on internal tests, Mi Max can support up to 14 hours of streaming video in a single charge, the company said.
The new handset, starting at 1,499 yuan ($230), is Xiaomi's latest effort to boost its presence in the mid-end market as the 6-year-old company is wrestling with intense competition at home and abroad.
James Yan, a Beijing-based analyst at Counterpoint Technology Market Research, said Chinese consumers love big-screen smartphones but it does not mean that the bigger the screen, the more popular it will be.
"The 6.44-inch screen may be not a mainstream option because it is too big to many consumers. Still, there is definitely a demand for such devices," Yan said.
Just like Apple's newly released small-screen iPhone SE, Xiaomi is targeting a niche with the new phone, hoping it can be popular among hardcore gamers and video lovers, he added.
In the first quarter of 2016, Xiaomi, the world's fifth-largest smartphone maker in terms of shipments last year, failed to make its way into the global top five vendors, according to research firm International Data Corp.
During the same period, however, lesser-known Chinese brands vivo Communication Technology Co Ltd and OPPO Electronics Corp leapt forward quickly, and its arch rival Huawei also made steady progress.
On Tuesday, Xiaomi also unveiled the MIUI 8, the next generation of its tailored Android operating system, which was hailed by Lei, CEO of Xiaomi, as a "milestone" upgrade.
With the MIUI 8, consumers can use smartphone's camera to scan physical objects to search and shop for similar items on online site Taobao, and scan mathematics questions for step-by-step solutions.
"Xiaomi is using the new feature to target young Chinese, who are the most promising consumer group," Yan said.
Huawei also released a new smartphone, Honor V8, on Tuesday to tap into the mid-end market. It features high-resolution display and a dual-lens camera.