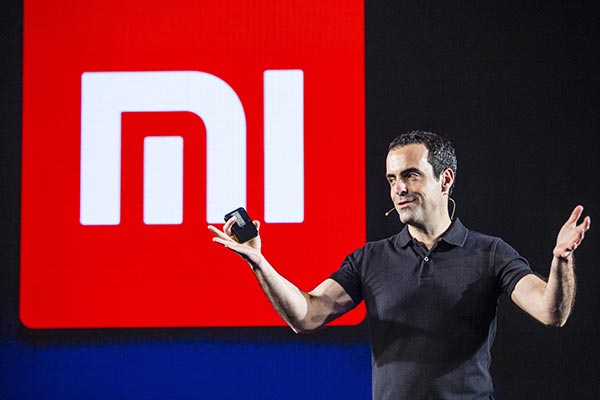 Hugo Barra, vice-president of global operations at Xiaomi Corp, gestures while speaking during the launch of the company's Mi 5 smartphone in New Delhi, India.[Photo/Agencies]
Smartphone giant Xiaomi Corp is making its first investment in an Indian company, leading a $25 million cash injection into Hungama Digital Media Entertainment, an online provider of music and video content.
Hugo Barra, Xiaomi's vice-president, said the move is part of the company's strategy to introduce local entertainment content and services onto its smartphones in the country.
Hungama's existing investors Intel Capital, Bessemer Venture Partners and Indian billionaire Rakesh Jhunjhunwala, are also part of the investment round.
"Xiaomi has been an Internet company from the very start and think of smartphones as a platform for us to deliver Internet services, including content," said Barra.
"As our user base grows and 4G penetration continues picking up in India, we will start to see more and more consumption of digital media through Xiaomi devices."
He said the company is investing in Hungama not only to start integrating content onto its smartphones, but also to deepen its understanding of the Indian content sector.
Hungama is considered the largest digital provider for Bollywood and claims to have more than 8,000 movies on its platform and 65 million monthly active buyers of its music, video and movie services.
Neerja Roy, Hungama's founder and CEO, said: "We are excited to be partnering with Xiaomi, as we are well aligned in the way we see digital media becoming mainstream on mobile devices."
The company will use the money to add more content on its platform, he said, as it hopes to strengthen its movie and TV services with another 1,500 hours of Indian language and English TV content.
Consulting firm Gartner Inc predicted global smartphone sales were unlikely to grow in double digits this year, but said with only 220 million smartphone owners within a population of 1.2 billion, India expects 29 percent growth.
Zhu Dalin, an analyst at Beijing-based consultancy Analysys International, said Xiaomi is aiming to expand quickly in India through integrating Hungama's entertainment content and services into its platform, adding it also plans to earn from its online paid content in the future.
He said the Chinese firm has kept one step ahead of its competitors, such as Samsung Electronics Co and Apple Inc in its content offered in India.
The tech giant started selling in India in 2014, and began local manufacturing a year later.
It claims 75 percent of its smartphones sold there are locally made.
After launching its latest flagship smartphone the Mi 5 in India recently, Lei Jun, its founder and chairman, said that the Indian market would be a focus for its overseas strategic development this year.
Last year Xiaomi sold 64.9 million smartphones in China, giving it a 15 percent market share, just ahead of domestic rival Huawei Technologies Co Ltd (14.5 percent) and global giant Apple (13.4 percent), according to research firm International Data Corp.