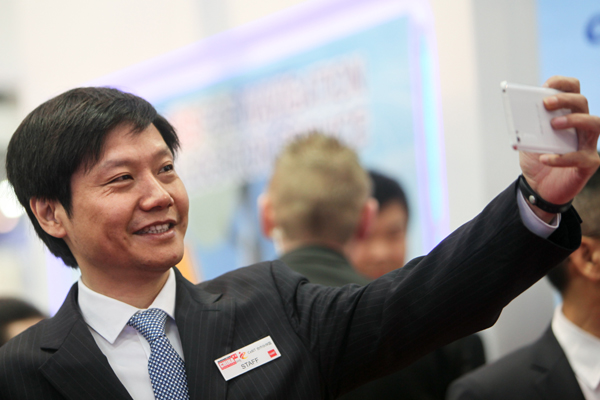 Lei Jun, CEO of Xiaomi takes a selfie at the CeBIT in German on March 16, 2015. [Photo/Xinhua]
Lei Jun, founder and chairman of Xiaomi Corp, one of the largest smartphone vendors in China, said Chinese innovation has started to win world recognition as more foreign firms are learning from their Chinese tech counterparts.
China's Internet sector has seen explosive growth in the past several years. This is not only because of the huge market but also innovations made by China's Internet companies, Lei said at the China Development Forum on Saturday.
"Compared with their US peers which are chiefly driven by tech advances, Chinese Internet enterprises place tons of emphasis on user experience, marketing and rapid solutions, which are helping us gain unique edges," Lei said.
Earlier this month, Lei became the cover figure of the US tech magazine Wired's UK edition, with the title of "It is time to copy China."
"This shows that the world is starting to recognize Chinese innovation and the country's Internet companies," he said.