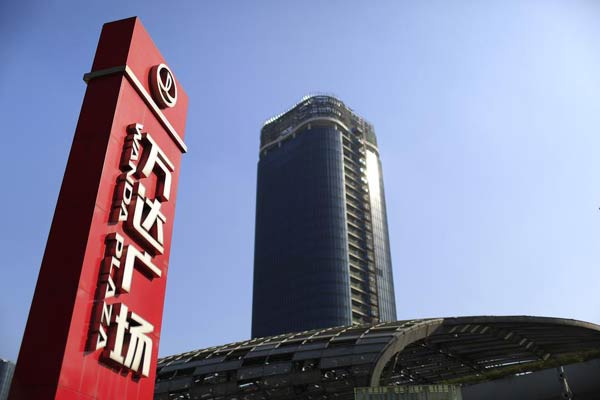 The logo of Wanda Plaza is seen in Shanghai Dec 23, 2014. [Photo/Agencies]
Dalian Wanda Group told private investors backing its property-arm buyout that it would buy back their shares, guaranteeing 10 to 12 percent annual return, if it fails to re-list on the A-share markets as scheduled, reported Bloomberg.
The conglomerate is seeking investors to help purchase as much as 14.4 percent of Dalian Wanda Commercial Properties Co, as the latter is preparing to delist from Hong Kong Stock Exchange, said the news agency citing a document sent to prospective buyers.
Wanda stated in the pitch material that valuations for some developers listed on the mainland are more than triple those of comparable stocks in Hong Kong.
If the Wanda Commercial Properties fails to go public on a mainland exchange by either Aug 31, 2018, or two years from its de-listing, Wanda promises to buy back the shares at a level guaranteeing a 12 percent annual return for domestic investors and 10 percent for those overseas, said Bloomberg.
Last month, the real estate company announced it offered to buy out shareholders at HK$48 per share, unchanged from the price it offered in its December 2014 IPO.
The move comes as the biggest giant among offshore-listed companies rushes home for valuation premium.
Market speculates that the developer is more likely to land on A-share via reverse merger, as some 700 companies are currently lining up for listing approval. Deloitte expects regulators will only grant a total of 180 to 220 IPOs this year for market stability reasons.