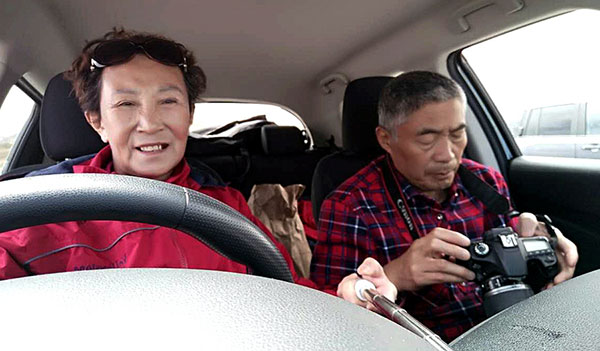 Chen Aiwu(left),a 64-year-old former bus driver, and her 66-year-old husband, Wang Dongsheng,spent 19 days driving around the US west. [CHINA DAILY]
Among all the groups, women are most likely to find pleasure in family situations at home, especially those who have higher education and are in good health, according to a national household survey.
The survey, which focuses on attitudes to happiness, was jointly conducted between 2014 and 2015 by China Population Communication Center (CPCC) and the Institute of Population and Labor Economics from Chinese Academy of Social Sciences (CASS). It lists some key factors that influence household happiness, including: how long a couple has been married, the frequency of family gatherings and food safety concerns.
Around 77 percent of families clearly identify that they find their household a source of great pleasure, an increase of 0.62 percent over 2014. Almost all families regard family gatherings as memorable and cherished moments that should take place more often. Nowadays, more and more families claim to pay greater attention to food safety, which is directly related to health concerns among households.
Wang Guangzhou, a researcher from the academy, said the longer couples are together, more happy their marriage would be.
Wang said this is partly due to the fact that marriage protects against age-related decline in happiness, especially among those couples who remain with their first spouse and keep harmonious relationship with other family members.
Wu Haixia, an assistant researcher, said that men achievedless marital happiness than women. He said this could be attributed to their traditionally larger shares of responsibility in both work and life. Also, Wu reminded couples to think twice before they make any important decision in relationships, especially when getting married or divorced.
Yao Hongwen, director of the CPCC, said the study aims to explore the hidden principle within the development of family relationships, further raising public awareness on the potential problems families face. In addition, Yao said if household responsibilities are shared among family members, then they will be more happier.
The original blog is at: http://blog.chinadaily.com.cn/blog-1123562-36556.html