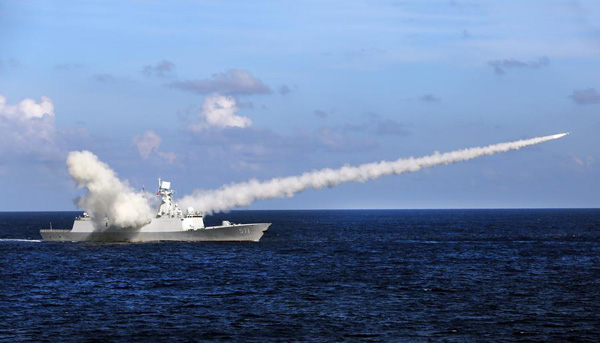 Missile frigate Yuncheng launches an anti-ship missile during a military exercise in the water area near South China's Hainan Island and Xisha islands, July 8, 2016. [Photo/Xinhua]
The July 12 ruling of the arbitral tribunal in the case initiated by the Philippines against China has raised tensions in the South China Sea. At first glance, these tensions seem to be driven by the enormous interest shown by world powers in the case, which reminds one of the rhetoric of the "China threat" fallacy. The aggressive media coverage of the ruling, too, appears to be driven by China's historic rise that has given it unprecedented leverage to reassert its claims.
On second look, however, it seems the rhetoric from both sides was triggered by the rather narrow legal nature of the tribunal and its over-ambitious ruling. The ruling is bereft of pragmatism, for it cannot be implemented. No wonder it didn't prompt Beijing to seek reconciliation, which has further raised tensions in the South China Sea.
Other than making China less compromising, the ruling will further polarize the Association of Southeast Asian Nations and the sinews of this polarization were evident at the Asia-Europe Meeting in Ulan Bator from July 15 to 16 as well as the 49th ASEAN foreign ministers meeting in Vientiane from July 24 to 27.
In principle, any mediation, adjudication or arbitration requires all parties to a dispute to participate in the proceedings. China neither recognized nor participated in the arbitration proceedings. More importantly, it views the case as one of territorial sovereignty dispute in the South China Sea and therefore asserts the United Nations Convention on the Law of the Sea cannot be used to resolve it.