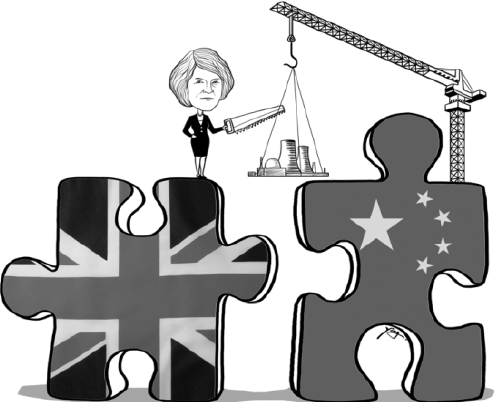 WANG XIAOYING/CHINA DAILY
When new British Prime Minister Theresa May's government surprised everyone by announcing it was reviewing Chinese-backed plans to build a French-designed nuclear power plant in western England, many assumed it was over fears of too much Chinese involvement in the sensitive area of nuclear energy.
The champagne had been laid on, the dignitaries invited and following last Thursday's decision by France's EDF conglomerate to go ahead with its share of funding the £18 million ($23.9 million) Hinkley Point C project was all set for a quick signing ceremony. All set, that is, until a few hours after an oft-delayed EDF board decision was taken, when British Energy Secretary Greg Clark announced Britain was reviewing the project and would make a final decision in September.
Many in the United Kingdom jumped to the immediate conclusion that fears over security were involved, and pointed to the malign influence of Nick Timothy, one of May's closest advisers who had previously publicly expressed fears that "the government is selling our national security to China" because of the involvement of China General Nuclear Power Group, which is funding a third of the cost.
But what appears to be the main reason for the British government's decision is now emerging, and proves that China and CGN were correct in their cautious reaction to the news.
EDF, which has been struggling to fund its share of the project, finally got the go-ahead from its main shareholder, the French government. Originally the EDF board had been due to meet in September but eventually moved the meeting forward to July. May was apprised of this by French President Francois Hollande when she visited him in Paris just a week after taking office. But she told Hollande that her government would adhere to the September timetable.