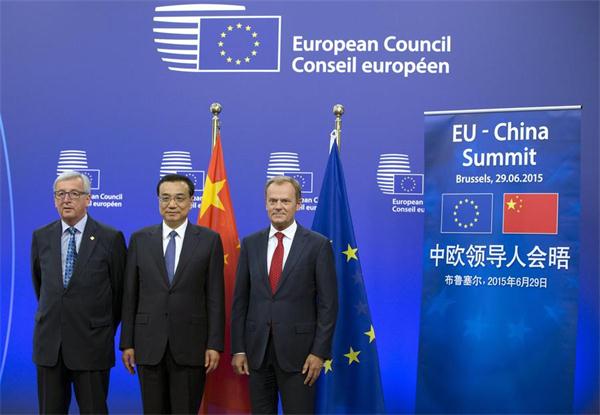 European Commission President Jean-Claude Juncker (L) and European Council President Donald Tusk (R) welcome Chinese Premier Li Keqiang at the European Council headquarters ahead of of an EU-China summit in Brussels June 29, 2015. [Photo/Agencies]
As European Union Commissioner for Justice, Consumers and Gender Equality, I will visit China for the launch the EU-China Legal Affairs Dialogue on 20th June. This new high-level dialogue was agreed by our leaders at the EU-China Summit in 2015 as one of its core deliverables to further our already strong strategic partnership. The EU and China have a common interest in better understanding their respective legal systems, largely because of their important role for exchanges in many other sectors such as trade and investment, technology, agriculture, health and social issues, urbanisation, environment protection etc. The new exchange mechanism on legal affairs will further enhance the EU-China partnership as it will provide a platform to exchange experiences on the rule of law and increase mutual understanding. This first dialogue will tackle the very topical subject of e-commerce and protection of consumers.
During my visit I will also participate in the 5th biennial EU-US-China Trilateral Product Safety Summit focussing on the safety of products sold online. Product safety and protection of consumers is an important area in overall EU-China relations. It is a topic of great concern in Europe and also one of increasing importance for Chinese consumers. Close cooperation is key: only by working closer together can we make Europe and China safer places for consumers.
As I am also in charge of gender equality, I want to devote part of my visit to gender issues. The EU is interested in exchanging experiences and contributing to the evolving legal framework of which a recent example is the Anti-Domestic Violence Law adopted in December 2015. The EU participated in the public consultations for the new law, and I will be keen to hear about its implementation.
But I am not alone among my EU colleagues in making China a priority. Over the next few weeks, in the run-up to the EU-China Summit in July, another three EU Commissioners will visit China for high-level talks.
Transport Commissioner Violeta Bulc will visit at the end of June to co-chair the first meeting of the EU-China Connectivity Platform with NDRC Chairman Xu Shaoshi in Beijing. She will also attend the World Economic Forum in Tianjin. Climate Action and Energy Commissioner Miguel Arias Cañete will come at the same time to discuss climate action after the pivotal Paris conference, and to attend the G20 Energy Ministers Meeting in Beijing, as well as the EU-China Low-Carbon Cities conference in Wuhan. Finally, Trade Commissioner Cecilia Malmström will visit from 9-11 July to attend the G20 Trade Ministers Meeting in Shanghai, as well as the EU-China Trade Joint Committee Meeting in Beijing.
Vera Jourova
All these visits and meetings will feed into the 18th EU-China Summit in July which will be attended by President of the European Council Donald Tusk and President of the European Commission Jean-Claude Juncker as well as High Representative of the European Union for Foreign Affairs and Security Policy and Vice-President of the European Commission Federica Mogherini, Vice-President of the Commission Jyrki Katainen and Trade Commissioner Malmström.
The EU-China Strategic Agenda 2020 remains the common framework for our cooperation, covering a range of areas from foreign and security policy, trade and investment, to people-to-people relations. At the last Summit meeting we started to develop new areas for cooperation from connectivity, investment, innovation and ICT to the already mentioned legal affairs dialogue and stronger people to people contacts.
This is the agenda for the next phase in our growing relationship.
As global actors, the EU and China will more closely cooperate on foreign and security policy in Asia, the Middle East and Africa, and on wider issues of global governance from development to climate change. This will also be important when we explore synergies between the OBOR initiative and the EU's own infrastructure plan. A safe and secure environment is a prerequisite for greater connectivity between the EU and China across the Eurasian continent.
Trade and investment remain the core of our relationship. Our economies are going through profound transformations. A Comprehensive Agreement on Investment, which should deliver wide market access as well as state-of-the-art investor protection for both sides, will be an important foundation for what may be called a new era of our economic relations in which we will need to ensure a level playing field and reciprocity.
I trust that my visit as well as the ones by my colleagues in the weeks to come, and especially the EU-China Summit, will pave the way for further developing this new era of mutually beneficial relations.
The author is European Union Commissioner for Justice, Consumers and Gender Equality