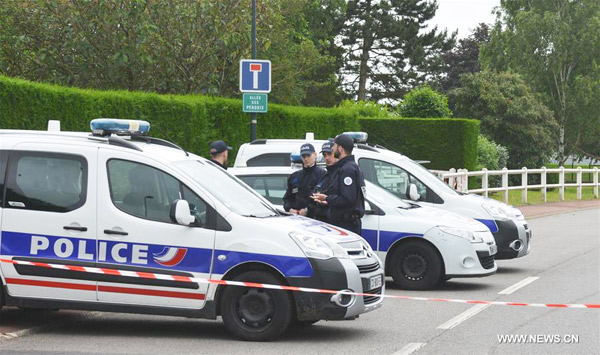 Policemen stand guard near the site of the killing of a police officer in Magnanville in suburban Paris, France, on June 14, 2016. [Photo/Xinhua]
Shortly after a gunman shot dead 49 people at a nightclub in Orlando, Florida, a French police officer and his partner were stabbed to death on the outskirts of Paris on Monday by a person who reportedly claimed allegiance to the Islamic State group.
When the United States dropped tons of bombs on Afghanistan and Iraq, many people believed that what the US was engaged in was warfare in which victory could be achieved by destroying the physical headquarters of the terrorists. But 15 years have passed and final victory against terrorism remains remote. The organized large-scale terrorism attacks have given way to smaller-scale ones by individuals or small groups of killers that are harder to prevent.
The Western media often see different beliefs and values as the motives behind such attacks. However, such kind of ideological labeling does not help prevent future attacks and instead may only drive those with extreme mindsets closer, so they can act together. This is exactly what terrorist organizations like the IS pursue.
To define a society as liberal or non-liberal means double standards are being used to "identify" terrorists. For Western countries and countries with political models different from the West, the motives behind the terror attacks against them are always interpreted differently. That explains why the anti-terrorism operations launched by some developing countries such as China are often denounced by some Western media as "violent suppression" of particular ethnic groups.
The reason why terrorists are called terrorists is not because of their different religions, nationalities or races, but because their acts have breached the moral bottom line of human society.
The latest lone wolf attacks in the US and France highlight the need for more global anti-terror cooperation. However, demarcating anti-terror activities in different countries based on ideologies only hampers global cooperation against terrorism.--Global Times Chinese Edition