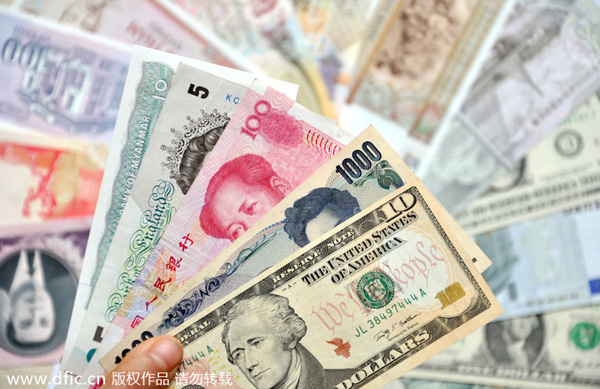 Foreign currencies are placed next to 100 yuan banknote. [Photo/IC]
Even before the start of the eighth Strategic and Economic Dialogue the issue of the renminbi's exchange rate was back on the agenda.
When China's growth model still relied on exports and investment, US allegations of currency manipulation by China topped the list of bilateral concerns in Washington. Before the S&ED meetings, US Treasury officials would threaten to label China a "currency manipulator" in exchange for "greater reforms" (economic initiatives deemed in the US' interests).
China has intensified financial reforms. But in its exchange-rate reforms, it is likely to emulate other Asian economies, such as South Korea-not the US.
At a time when China is moving away from net exports, it is not in China's interest to "manipulate" its currency to boost exports.
After years of trade surpluses and large-scale foreign direct investment inflows, China's foreign exchange reserves stand at $3.2 trillion. However, the US has had a trade deficit with Asia for decades; first with Japan, then with small Asian tiger economies, more recently with China. The US trade deficit has been regional and multilateral, not bilateral.
Some critics claim that the renminbi is depreciating because China faces the challenge of capital outflows, but they tend to mistaken cyclical fluctuations with structural trends. In reality, China's foreign-exchange reserves actually rose in April; for the second straight month. The US Treasury's effort to "press China" to move toward a "market-determined exchange rate" reflects election politics in the US.
So what's the real story of the Chinese renminbi today?