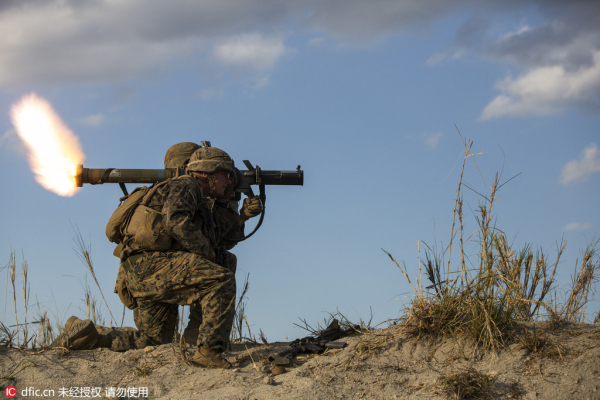 U.S. and Philippine Marines trained together to build their combined capabilities.U.S. Marine Corps Lance Cpl. Dillon Ellzey and Lance Cpl. Andrew Whitbeck, assigned to the 3rd Marine Division, III Marine Expeditionary Force under the Unit Deployment Program, in a ground assault maneuver training during Balikatan 16 at Crow Valley, Philippines, April 9, 2016. [Photo/IC]
The recent remarks of a US spokesman over the Philippines government's provocative activities in the South China Sea reflects the duplicity of the United States.
At the department's daily news briefing, Mark C. Toner, deputy spokesperson for the US Department of State, gave only a vague response when asked a question about Manila's upgrading of a military airport on the Zhongye Island that it seized from China in the 1970s.
Toner refused to criticize the Philippines government's activity, claiming he did not know much about the issue.
"I don't have specific details about what they (the Philippines) are planning to do or not do on the islands, and we'd have to wait to get more details about that." he said.
Manila said in 2014 and last year that it had halted work at the airport on Zhongye Island, yet it has sent substantial amounts of construction materials and various types of gasoline to the island.
Despite this, Washington has failed to act on the fact that its ally has failed to honor its commitment.
On the contrary, when China finished construction of a lighthouse on Zhubi Reef in a bid to provide efficient navigation services to ships, the US State Department quickly voiced its opposition.
The two different attitudes can't help make people question the double standard displayed by the US, which goes against its promise not to take sides on the South China Sea disputes.
For a long time, the US has turned a blind eye to the fact that some countries including the Philippines have been beefing up defense facilities, constructing airports and seaports and settling residents on the islands that they illegally seized from China in the South China Sea.
But whenever China conducts any construction activities on the Nansha islands and reefs, which fall within the scope of China's sovereignty, the US always expresses its strong opposition and suspicion.
The US has the most sophisticated weapons systems, defensive and offensive, which are deployed across the world. But after China deployed a missile system on Yongxing Island, part of the Xisha Islands in the South China Sea, the US said it expected to hold "very serious talks" with China. Its allies also expressed concern over the development.
As far as the US is concerned, there is obviously one rule for some nations and another for China. The South China Sea is not the only example of this. The US has also shown double standards on many other issues, such as cyber security and the setting up of air-defense identification zones.
The author is a writer with China Daily. anbaijie@chinadaily.com.cn