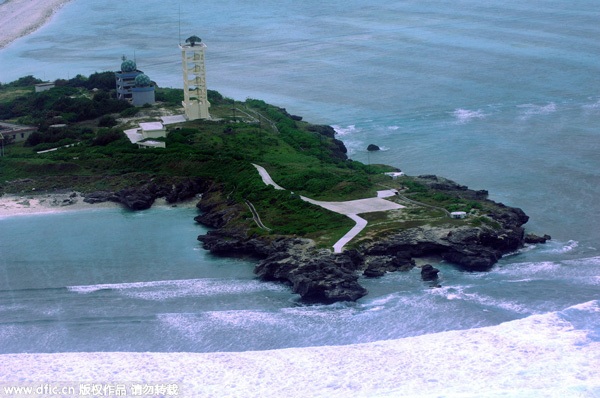 View of part of the Xisha Islands in the South China Sea. [Photo/IC]
The visit of US Pacific Command Commander Admiral Harry Harris to the Philippines last week shows Washington and Manila are keen on strengthening their military alliance. Contrary to their claims that their military and strategic cooperation is meant to deter conflict and maintain freedom of navigation in the South China Sea, the strengthening US-Philippines alliance has already become a factor in raising tensions in the already troubled waters.
The two countries have not only held military exercises on much bigger scales in the waters near the disputed South China Sea in recent years, but also agreed on plans for the Philippines to acquire US military vessels and equipment in order to enhance the latter's military capabilities at sea.
The Philippines' penchant for flexing its military muscles, despite their obvious weakness, to covet China's shoals and reefs in the South China Sea goes hand in hand with the US' intention to strengthen its military alliance with the island country.
To Washington, Manila appears an ideal stepping stone to implementing its "rebalancing to Asia" strategy. Its covert and overt support to Manila is widely seen as a move to contain China's rise. And Manila considers US support as a ticket to take more radical steps to consolidate its illegal occupation of Chinese isles and islets.
The fact is, working hand in glove, Washington and Manila may appear to be better positioned to fulfill their respective strategic goals in the region, but experience shows there is a good chance of such self-serving intentions backfiring.
Last week, US media reports said Manila's maritime police are chasing foreign fishing boats, including those from China, out of Philippines' waters for allegedly fishing there. The Philippines said six vessels given to it by the US in 2010 have been helping them a lot in the "operation".
But such actions are fraught with danger, as they could lead to serious, perhaps fatal, incidents in the high seas even though Chinese boats might have been fishing in China's territorial waters. Moreover, the Philippines does not have the right to harass Chinese fishermen fishing in China's waters.
The case of a Philippine navy gunboat threatening 12 Chinese fishing boats in April 2012 in a lagoon near Huangyan Island is still fresh in memory. The incident snowballed into a standoff between vessels from the two countries and soured ties between Beijing and Manila. Yet it seems Washington is determined to boost Manila's military capability to confront China in the disputed waters.
US media reports have also said that during Harris' visit to the Philippines, Manila sought Washington's help to protect the transport of its troops and supplies to the Philippine-occupied reefs in the disputed South China Sea by deploying American patrol planes to deter China from trying to block the supply routes.
But Washington should realize the deeper it gets involved in the South China Sea disputes, the more difficult it would be for it to get out of them. Since the Philippines' claims on China's maritime territories are based neither on reason nor on law, the US will project itself only as a meddler, instead of an objective observer as it claims to be, if it throws its weight behind the island country. More importantly, such a move will not help the US pursue its strategic interests in the region.
As Manila is known for playing all sorts of tricks to consolidate its illegal claims, Washington should not be led by the nose. Manila is prone playing with fire to provoke Beijing, and by continuing to do so it could spark an armed conflict one day.
And should such a scenario occur, the US will find itself in an awkward position because being dragged into a full-blown conflict with China is something it does not want. It's time the US realized nothing good could emerge out of its military alliance with the Philippines.
The author is a senior writer with China Daily wanghui@chinadaily.com.cn