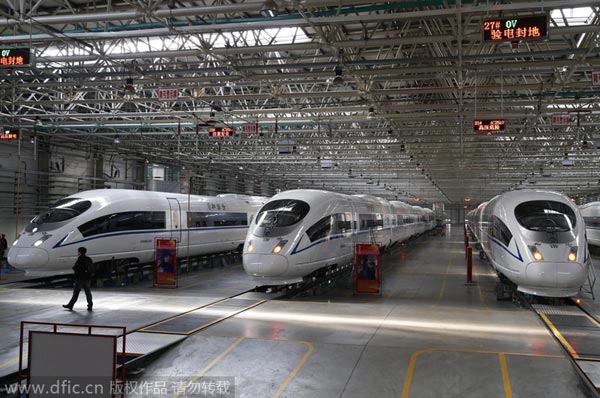 High-speed trains are docked at a commissioning and testing facility of the Tangshan Railway Vehicle Co Ltd which is a subsidiary of the China Northern Locomotive and Rolling Stock Industry Corporation, in Tangshan city of Hebei province, China, Feb 11 2015. [Photo/IC]
Compared with planes, high-speed trains have increasingly become a preferred choice for people travelling in China. It was simply amazing to cover a distance of close to 1,400 kilometers between Shanghai and Beijing in less than five hours, as I did twice two weeks ago.
Comparatively, it would take Acela, the high-speed Amtrak train, seven hours, to travel the 731 km, between Boston and Washington.
Amtrak has an ambitious blueprint to reduce the Boston-Washington travel time to three hours by 2040, something that Chinese high-speed train can do right now since the designed speed of the line is 380 km/h.
The US used to be admired all over the world for its superb infrastructure, especially the transport network built after the World War II. However, the lack of investment and inadequate maintenance has changed the standing in this regard.
The American Society of Civil Engineers' 2013 Report Card for America's Infrastructure, issued every four years, showed a significant backlog of overdue maintenance, a pressing need for modernization, and an immense opportunity to create reliable, long-term funding. The Report Card gave the US rail system a C+ and both aviations and roads a D. C means mediocre while D means poor.
Over the years, Americans, from President Barack Obama, Vice-President Joe Biden to columnist Thomas Friedman and former US Ambassador to China Stapleton Roy, have sighed at the poor US infrastructure in sharp contrast with the rapid advancement in China.
Potholes on the streets used to be a source of public complaints in China. But Chinese tourists visiting US these days are surprised to find that great US cities such as New York and Washington have more potholes than Chinese cities.
There has been an outcry by Americans about the country's poor infrastructure, especially the rail system, following the May 12 Amtrak derailment in Philadelphia that killed eight people and injured more than 200 others. However, it seems to have died down quickly after just a week.
What's in the news this week is that Chinese Premier Li Keqiang announced a $50 billion investment in infrastructure in Brazil, and more investment in the other Latin American countries he is visiting. Such investment has been applauded for rightly addressing the thorny issue of inadequate infrastructure, a key bottleneck to their economic development.
However, Chinese investment in US infrastructure still faces huge hurdles as US politicians demonize such investment as posing a threat to national security.
In an article in the June edition of The Atlantic magazine, Henry Paulson and Robert Rubin, two former US treasury secretaries, argue that Chinese investors could help the US speed growth now without worsening its long-term debt problem, clearly referring to the more than $18 trillion US national debt.
The US has vast infrastructure needs and a paucity of public capital. But byzantine regulatory and policy barriers too often discourage private investment in major projects. A more streamlined and welcoming environment for domestic and foreign investment in infrastructure projects would create jobs and boost competitiveness, they say in the article, titled Why the US Needs to Listen to China.
Criticizing the two countries for engaging in a dialogue of the deaf and blaming the other for its own failings, they argue that the greatest American threat to China's economic future is the possibility that America's economic success could come to an end. Yet the greatest economic danger China poses to the US is the chance that China's economy fails to grow.
A report on Chinese investment in US Congressional districts released on Wednesday by the National Committee on US-China Relations and Rhodium Group showed Chinese foreign direct investment benefits the recipient economy and creates jobs.
So if US politicians stop fear-mongering, Chinese investment could soon help the US fix its infrastructure problems, such as by building high-speed rails and repairing potholes in New York and Washington.
The author is deputy editor of China Daily USA. chenweihua@chinadailyusa.com