LAC private sector needs a 'China nudge'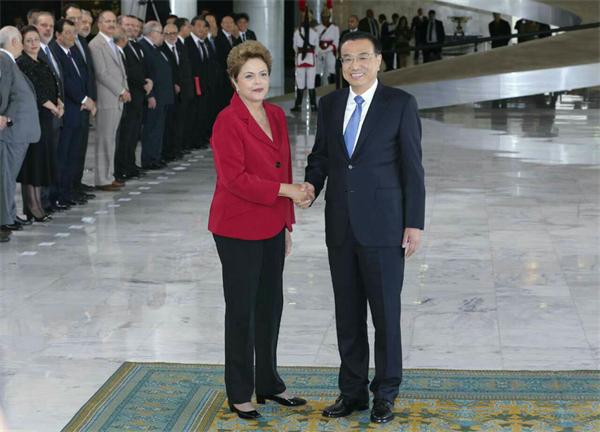 Premier Li Keqiang is welcomed by Brazilian President Dilma Rousseff on May 19 local time at the presidential palace in Brasilia.[Photo/english.gov.cn]
The visit of China Premier Li Keqiang to South America might be remembered as the visit that unlocked a new wave of Chinese investments in the region. Chinese investment in infrastructure projects, such as the proposed transcontinental railway link, has the potential to exponentially increase China's trade flows with Latin America and the Caribbean (LAC), as well as intraregional trade.
Unquestionably, China has been the central driving factor for growth of some of the most important economies in LAC. Yet, have LAC governments and businesses taken sufficient steps to take advantage of the China opportunity? Is the average Latin American businessman or government official adequately knowledgeable when it comes to approaching the Asian giant? The answer is no. Best case scenario, not really.
Top human resources of LAC countries still prefer to develop their careers in the United States or Europe rather than in China. But if China has such a great influence over LAC nations' economic development, why is this happening? Perhaps more important, is the current situation fixable? Overcoming these challenges is not only possible, but also increasingly necessary, particularly at a time when LAC countries intend to add quality to their commercial relations with China.
However, this will not occur automatically. The influence of geographic distances and time differences weigh in more than one can imagine. Therefore, to make it happen, governments should put smart policies into action. Even though booming trade and investment has been motivated almost exclusively by China's needs rather than by LAC countries' capacity to creatively take advantage of the tremendous opportunities offered by the Chinese market, by adopting the right measures, it is feasible to unleash a new generation of business with China.
China is as an extremely diverse country, geographically and economically. Yet, for the majority of LAC government agencies and business executives, China is just Beijing and Shanghai, and they usually assume that what works in these cities, also works in other Chinese cities. LAC governments and enterprises urgently need to develop policies and marketing strategies to seize the opportunities arising out of China's so-called 'second tier cities'. Take the case of Foshan. Located at the heart of Guangdong province –China's economic powerhouse- the city's population is 8 million and its per capita GDP is higher than Shanghai and even some European Union countries.
LAC's deficit of human resources formally trained in Chinese language or in doing business with China needs to be solved urgently. The percentage of Latin American business professionals with China experience is very low and increases the risks of failure, deterring LAC companies from venturing into the Chinese market. In addition, LAC businesses desperately need tools that help them to penetrate China's e-commerce world easily. For example, the language barrier prevents LAC business from thriving in Chinese e-commerce platforms, such as Tmall.com or JD.com.
LAC governments should be proactive and create policy schemes that move the LAC private sector towards the development of new business models and mindsets to better connect with China. This should involve, besides enterprises, unions, tertiary education institutions and local communities. LAC governments should give the private sector a nudge, as Cass Sunstein and Richard Thaler define it. Not any kind of nudge but a "China Nudge".
Policies that intend to provide local enterprises with better tools to maximize the benefits of business relations with China should prioritize support in the following areas: a) understanding the priorities of Chinese government and enterprises as a way of promoting circular joint ventures; b) strengthening LAC companies' knowledge of China's regional economies; c) providing LAC companies with easy-to-reach tools to learn how to attract Chinese consumers; d) promoting the establishment of China-LAC Business Parks, either in China or in LAC.
Li's South American visit should remind us of the old adage that actions speak louder than words. Business relations are more solid when they are built bottom-up, instead of top-down. It is time for LAC governments and business to design and implement holistic China strategies to make the most of the Asian century.
The author is an investment consultant with the Foshan Bureau of Commerce and a former research scholar in China-Latin America Economic Relations at Harvard Law School and Tsinghua University.