Third-quarter data positive news for rest of the year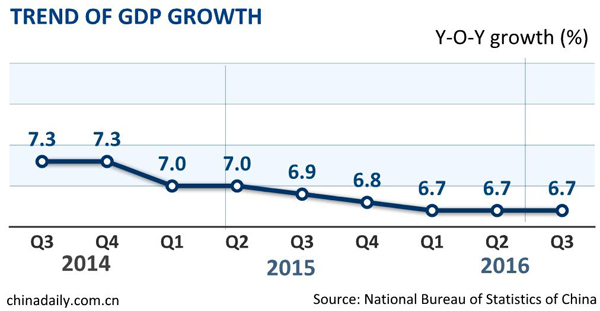 China's GDP expanded 6.7 percent in the third quarter of 2016, exactly equal to the levels achieved in the first two quarters, signifying that the sluggish economic growth may have reached its lowest point and providing confidence for the rest of the year and beyond.
The volume of international trade measured in RMB contracted 1.9 percent for the first three quarters of the year. The services industry continues to be the biggest booster for GDP growth, contributing over 71 percent, but net export has imposed a significant and negative effect. The process of reducing excess manufacturing capacity continues as the pressure on export has not diminished due to a fragile world economy in the aftermath of the global financial crisis.
One encouraging point about the Chinese economy is its ability to improve energy efficiency, reducing energy intensity for each additional unit of GDP by 5.2 percent. Furthermore, income per capita continues to rise, at a nominal rate of 8.4 percent, or a real rate slightly lower than GDP growth. People's rising incomes have been attributed to a relatively high level of employment, as China manages to create more than 10 million new jobs in the first three quarters of the year.
Despite the relative low level of economic growth, China is still one of the best performers in the world economy. The US, the EU, and Japan are struggling to fully recover from the crisis, and Brexit has added further uncertainty to the UK as well as the EU economies. Russia and Brazil are experiencing negative growth due to the depressed prices of their export commodities, particularly oil and mineral products. India is probably the only world major economy that has maintained a higher level of economic growth than China.
But it is too early to be fully optimistic about China's economic prospective as one cannot be absolutely certain that economic growth may not go any lower. In contrast, the Chinese government may not be confident enough to announce that the economic growth in the fourth quarter of 2016 and in the next year can be definitely higher than what has been achieved in the first three quarters of 2016.
The official statistics show two major concerns. First, China has failed to fully regenerate the economy in the Northeast provinces of Heilongjiang, Jilin and Liaoning. There is also a lack of private investment throughout the country. In the first three quarters of 2016, private investment growth in China was unusually low at 2.5 percent, despite a slight improvement in September. In Northeast China, in particular, private and total social investments both contracted sharply. In an investment-driven economy such as China, such a huge investment contraction implies that any positive GDP growth must be a huge challenge in the three provinces.
Although total investments in the central and west regions of China are still relatively high, their investments have been largely driven by the local authorities and State-owned enterprises. The importance of public investments and State-owned enterprises cannot be understated in the early stage of rapid economic growth, but the lack of private investment can be a big concern for future prosperity. This is because the inherent problem of inefficiency embedded in State-owned enterprises will sooner or later become is an obstacle to long-term economic dynamics, as the current difficulty in Northeast China has vividly demonstrated.
Second, the rising house prices in the so-called first-tier cities of Beijing, Shanghai, Shenzhen and Guangzhou can become a grave uncertainty for the Chinese economy. Rising house prices have been a result of government land sales policy which is also deterring the integration of poor and rural migrants into cities.
In the short term, it appears that multiple house owners, local governments, bankers and house developers are all winners, but in the long term, the unaffordability of housing to the urban low income and rural migrants would harm the quality of China's urbanisation. This, in turn, will become a negative force for urban sustainable development.
High house prices have been driving up labour and land costs, which, in turn, have substantially reduced the profit margins of industrial production and services. Consequently, numerous small and medium-sized firms in the coastal region are struggling for survival, let alone for expansion and growth.
Another side effect of current high house prices is it accelerates the outflow of capital, as more and more Chinese people can now sell their houses in Beijing or other major cities and move to live in other countries comfortably. Massive emigration of rich people in recent years may be a result of high house prices, which may explain the dilemma that China's foreign exchange reserves have been depleted fast while the country is still generating an annual trade surplus of some $600 billion. It may also explain why RMB has been subject to depreciation pressure while China's economic growth is much stronger than the US.
Shujie Yao, Chueng Kong Professor of Economics, University of Nottingham and Chongging University