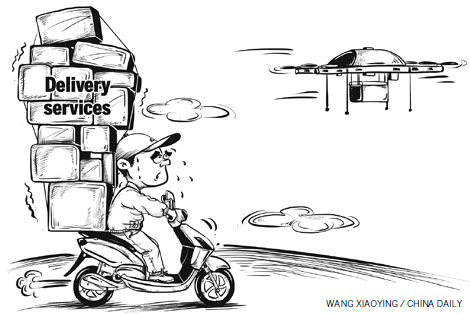 E-commerce is booming in China but delivery services need to keep pace with it. Most people have experienced frustration with the delivery of their purchases, especially during peak purchasing periods. This problem, though global, is more pronounced in China where huge volumes of goods have to be delivered across diverse landscapes. Could aerial drones help solve the problem?
Despite a certain amount of tolerance for less than smooth delivery of our goods, perhaps what diminishes our satisfaction with the benefits of online shopping is a delivery that turns into a real hassle, often involving phone calls and a trip to pick up the parcel. Instead, wouldn't it be great to have a drone deliver your package directly to you at your convenience, guided perhaps by your mobile phone?
Although an urban sky filled with drones seems like pure science fiction, delivery drones are now being tested by major delivery companies across the world. Drone delivery systems are being envisioned in major cities, such as Dubai, which believe that technological and economic cases are coming together to make drones a feasible, efficient and green option for e-commerce delivery. Could delivery drones be a solution to at least part of the logistics conundrum that is needed to help sustain the e-commerce boom in China?
Drone technology is developing exponentially but there are social and civil issues involved as much, if not more, than technological ones. For example, there are questions over whether the public will accept multiple drones in the sky over major cities.
Regulatory frameworks will be needed to control the headspace over major cities and there is plenty of humor generated from the potential for mischief making, such as intervening with drones in flight or stealing the drone and delivery. Yet tech savvy customers now want a more personalized shopping experience together with the kind of 24x7 convenience of ATMs. Better delivery services would also benefit online sellers by generating higher sales.
For delivery services, aerial drones could offer a great new tool. For the e-commerce boom to continue in China, the delivery services need to improve to handle peak demand and offer high quality immediacy. For instance, peak seasons for retail sales have proved a major problem for delivery companies in China. Nov 11, 2013, saw a huge peak in business on Taobao, one of the largest e-retailer platforms in China, with overall sales crossing 19 billion yuan ($3.04 billion) and the total number of transactions exceeding 100 million.