Editor's note: What about China attracts you most? Is it its culture, language, landscape or its people? Our forum readers share their opinions. You are also welcome to leave your thoughts. Let us know what you love about China!
Haksewui (Germany)
I am Chinese myself but I was born in Germany. What I like about China is :
The culture - I grew up with 2 cultures and I can say that for instance I simply love Chinese new year and the way how elders are treated in China.
The language - I am capable of speaking Cantonese, but I prefer Mandarin Chinese since it sounds beautiful to me.
Hopefully I will be able to go to China and see how it is. It is the country of the dragon.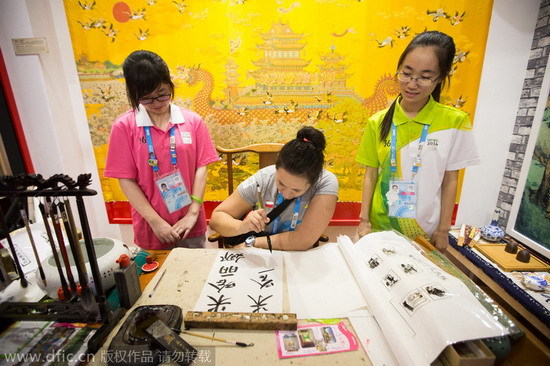 An athlete from Poland learns to write Chinese calligraphy in Nanjing, Jiangsu province on August 17, 2014. [IC/Photo]
The original piece: http://bbs.chinadaily.com.cn/thread-1052019-1-1.html