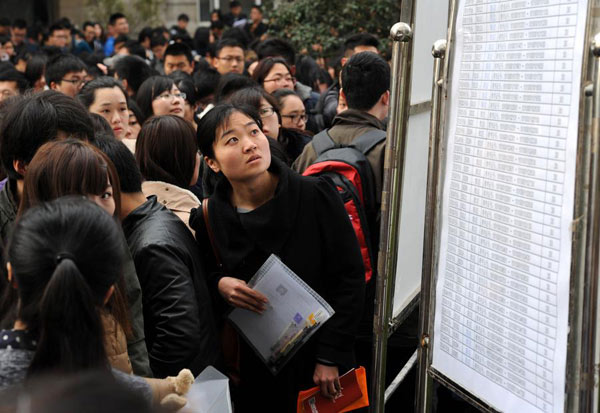 A candidate examines the test schedule for the local civil servant examination in Jiangsu province, March 23, 2014. [Photo/Xinhua]
China is reforming the pension and wage system of civil servants and employees of government-funded public institutions, which covers about 50 million people.
They will start paying their pension insurance, and receive a long-awaited salary rise at the same time to ensure their income is not affected by the pension insurance. It is noteworthy that the hike in wages will be calculated and applied through a new "sunshine salary" floating mechanism.
Yet before a forbidding law-based anti-graft supervisory system is put in place, higher legal incomes will not necessarily thwart some public servants' greediness for illegal profits squeezed from the power in their hand.
Between their salaries and bribes, there is an intermediate zone for civil servants to seek profits from their power. This zone is illegal, but protected by various local policies, rules and regulations that are made arbitrarily by local authorities without consulting the people. Besides, arbitrary fees and taxes become reliable cash cows for local civil servants.
This is why most local civil servants live a comfortable life despite their low salaries. The central government must take these factors into account in the reform, so as to avoid widening the income gap further.
Also the new civil servant wage system should not be a unilateral mechanism for a guaranteed salary raise. Lazy and irresponsible civil servants do not deserve higher salaries; instead, they should be dismissed. The incomes of civil servants must be directly linked with their performances, which should be assessed not only by authorities, but by the people as well.