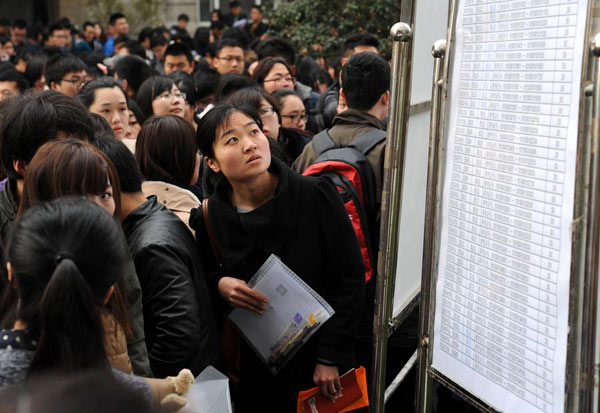 A candidate examines the test schedule for the local civil servant examination in Jiangsu province, March 23, 2014. [Photo/Xinhua]
Chinese mainland authorities have rolled out its long-expected plan to increase salaries for civil servants, Hong Kong-based Wen Wei Po reported on Sunday.
The pay raise plan, released by the State Council on Jan 12, covers grass-roots officials to ministerial level officials. The plan actually went into effect on Oct 1, 2014. This month civil servants will get their one-off compensation for salaries from the fourth quarter of last year.
The base salary for ministerial level officials will increase from the current 7,020 yuan ($1,130) to 11,385 yuan, while the salaries for the lowest level officials will jump to 1,320 yuan from 630 yuan, according to the plan.
The plan also said that in the future salaries for civil servants will be adjusted every year or every two years.
The newspaper quoted an expert saying that the first increase in salaries of civil servants seems big, but is still reasonable while taking inflation into consideration.
It is noteworthy that lower level officials are receiving a bigger increase, said the expert.
While increasing the level of base salaries, the plan also puts a freeze on the rise of allowances. Some allowances will be merged with the base salary. The allowances for ministerial level officials will be reduced by 650 yuan, while those for the lowest level officials will be down by 220 yuan.
On Wednesday, the State Council unveiled measures to unify old-age pension systems for enterprise employees and workers in government agencies and public institutions. In the past, corporate employees had to pay for their own pensions, while government staff enjoyed pensions without making any contribution at all.