Team returns home after fighting Ebola in Liberia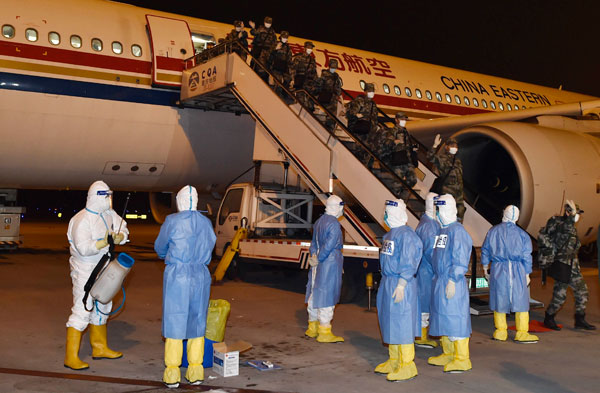 The first group of 82 military medical workers sent to Liberia in West Africa to help fight the Ebola virus return to Chongqing on Friday. After medical inspections at the airport, they were sent into isolation for 21 days before they will be allowed to see their families. REN WEN / FOR CHINA DAILY
Military medical workers spent two months on front line of virus
After traveling for more than 20 hours, the first team of military medical workers dispatched to Liberia to help fight Ebola returned to Chongqing on Friday morning, having completed two months on the virus's front line.
The Chinese military medical rescue team sent to Liberia, one of the hardest-hit countries in the Ebola-stricken area of West Africa, consisted of 82 medical experts, doctors and nurses.
After going through a disinfection treatment and inspections, the medical workers left their plane wearing masks.
For safety concerns, they are not allowed contact with others but will live in isolation under medical observation for 21 days before reuniting with their families.
"Our medical workers are the pride of Chinese soldiers," Gao Zhanhu, political commissar of the Hospital Affiliated to the Third Military Medical University, said at the airport. "They traveled far to Liberia to help stop the rampant virus without thinking of their own safety. Their behavior and efforts won the trust and praise of the Liberian government and people."
The first Chinese medical workers arrived in Liberia on Nov 15 and quickly got to work. Just 10 days later, an Ebola treatment center established by Chinese teams began operating.
The first Ebola case confirmed by the team on Dec 23 was a female, and four more cases were confirmed and treated in the following week.
By 10 pm on Wednesday, the team had treated 110 patients, among whom 63 were suspected of being infected with the Ebola virus.
Medical team members also helped train about 1,500 local people including military staff, policemen and medical staff, teaching them the basics of fighting the Ebola virus.
The first three Ebola patients to recover after receiving treatment at the center were discharged on Jan 12. They are the first group of Ebola patients to recover after receiving treatment from the Chinese medical team.
"When we arrived in Liberia in November, all our work started from scratch," Wang Yungui, team leader of the PLA medical rescue team to Liberia, told the country's Daily Observer newspaper earlier in the week. "Facing the difficulties of hot weather and the rampant spread of the Ebola virus, team members are facing tests both physically and mentally."
The second team of medical workers sent to Liberia will also return this month.
More than 21,000 people have been infected with the virus in Guinea, Sierra Leone and Liberia since the current outbreak in West Africa began a year ago, and at least 8,300 people have died, according to World Health Organization figures.
Contact the writers through hena@chinadaily.com.cn