More Chinese military medics to help in Ebola fight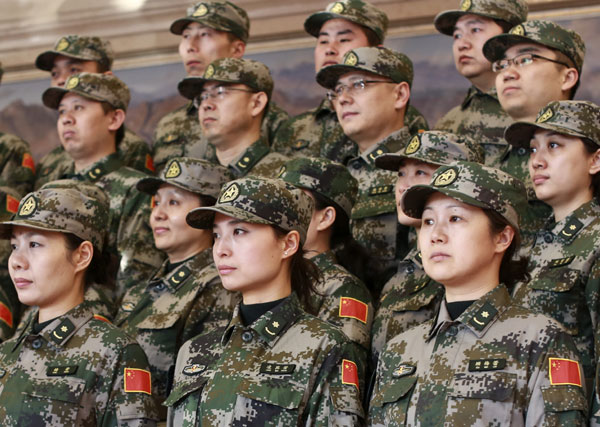 Military medical workers gather in Beijing on Monday for a pep rally before leaving for West Africa on Tuesday to fight the Ebola virus. Feng Yongbin / China Daily
China is stepping up its contribution to the fight against the Ebola virus in West Africa by sending 232 more military medical workers.
The latest contingent will leave Beijing on Tuesday evening to join two teams - one consisting of 154 medical workers from more than 10 hospitals and medical sectors in Liberia; the other comprising 78 workers including a mobile laboratory testing team in Sierra Leone - and will stay in West Africa for two months.
"Fighting Ebola is not a regional battle, but should be supported globally," said Cui Li, deputy director of the National Health and Family Planning Commission.
Before leaving, all the team members had received training lasting from two weeks to a month, including language, culture classes and also medical self-protection, for example, putting on and taking off the exposure suits made specifically for Ebola virus prevention.
To date, the Chinese military medical teams have treated 61 patients and trained about 1,600 local people in basic knowledge of fighting the Ebola virus in Liberia, according to the commission. Liberia is the hardest-hit country in the Ebola-stricken area.
The number of Ebola cases has reached 13,268 in the eight affected countries since the outbreak began, with more than 5,000 deaths, according to the World Health Organization.
In Sierra Leone, assistance mainly covers care for laboratory testing and observation. The Sino-Sierra Leone Friendship Hospital has been providing medical treatment since Jan 1.
Compared with the previous teams, more experts from both public and military hospitals are involved this time.
The team to Sierra Leone is composed of 35 workers from the Chinese Center for Disease Control and Prevention and 43 from the 302 Military Hospital of China.
China has provided funds and other supplies valued at 750 million yuan ($120.9 million) to West Africa to fight the Ebola virus, said Cui.
yangwanli@chinadaily.com.cn