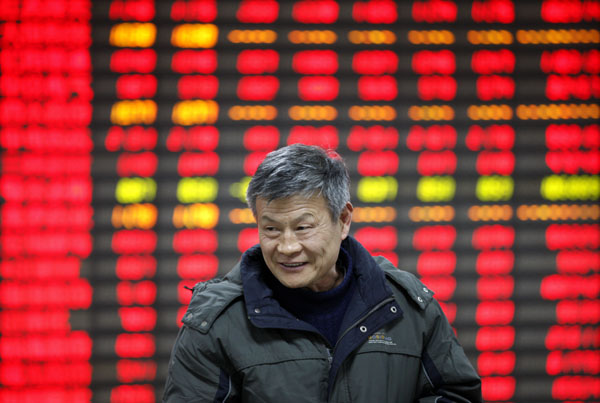 An investor smiles in a brokerage in Huaibei, Anhui province, on Jan 15, 2014. [Photo/Asianewsphoto]
Registration-based system will make capital market more open and efficient 
China's securities regulator is committed to introducing the registration-based system for initial public offerings and would take necessary steps in this regard this year, a top official said on Friday.
The IPO reform will be "the most important task" for the regulator this year and it will help clarify the role of government and market. In addition, it will also solve some of the key problems in the nation's capital market, Xiao Gang, chairman of the China Securities Regulatory Commission, said in a speech at the regulator's annual work conference.
The long-awaited reform has been viewed as a crucial step for the capital market to become more market-oriented. It also implies Beijing's desire to rein in the regulator's administrative controls and government intervention in the market.
Xiao said that the purpose of the reform is to build a market-driven IPO system with an emphasis on information disclosure and effective regulation.
The current approval-based IPO system has led to government endorsement on the profitability of the companies and its investment value, which lowered the risk awareness of the market and investors, he said in the speech published on the regulator's website.
It also created distortion of IPO supply and demand in the market and would hurt the market's long-term development, although it could stabilize prices and investors' expectations in the short term, he said.
"The registration-based system will help draw the boundary between the regulator and the market and prevent excess intervention as the government will no longer endorse the issuers and the investors will judge the value of the IPOs on their own," he said.
China has adopted the approval-based IPO system since 2000. A 25-person panel at the CSRC has been responsible for reviewing and approving IPO applications in the country's A-share market. The regulator also holds the power of setting IPO prices.