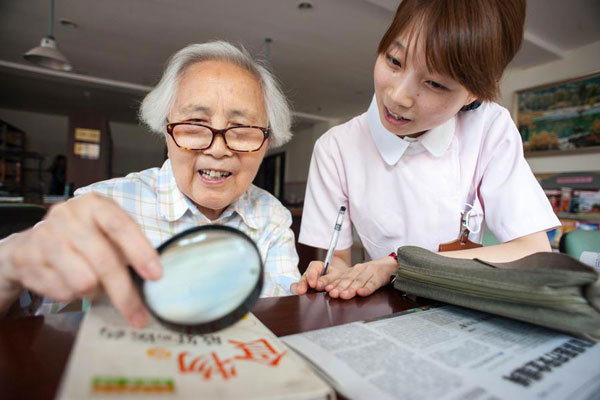 A woman reads newspaper at a nursing home in Southwest China's Chongqing municipality in this July 9, 2014 file photo. [Photo/Xinhua]
Differentiated pension policies across regions, divided programs and depreciating social security funds have caught the eye of China's lawmakers as they questioned cabinet members in Beijing on Sunday.
Vice Premier Ma Kai and several cabinet ministers joined lawmakers to review the country's social security programs at a bi-monthly legislative session of the Standing Committee of the National People's Congress (NPC).
In response to lawmakers' questions on the financial situation of pension programs, Ma assured them the programs have received more than they expended.
By the end of November, about 837 million Chinese joined pension programs, including 338 million employed urban residents, while about 226 million received pensions from the programs.
However, the future situation is not very optimistic as the growth of revenue has been slower than that of expenses, Ma said.
China is an aging society, with people above 60 numbering more than 200 million in 2013 and accounting for 14.8 percent of the whole population.
It is estimated that by 2053, about 487 million Chinese will be older than 60, accounting for one-fourth of the world's senior citizens.
To cope with increasing pressure from a graying population, the government will need a policy package to boost the revenue and streamline the management of pension programs, he said.
It might consider postponing the retirement age, channeling more dividends of State-owned enterprises to social security funds and encouraging citizens to try different pension plans, he said.
Several lawmakers pointed out that, although China has included a large part of its population in pension programs, policies vary according to their identities and where they live.
China has different social security programs, including pension programs for rural residents, self-employed urban residents, and employed urban residents.
Civil servants and staff of some public institutions are not included in social security programs but come under old State policies. The costs and benefits vary widely among different programs.
Also, policies in different provinces vary a lot and there is a huge gap between rich eastern regions and less developed western ones.