Public misgivings about the recent incident at a military training program in Longshan county, Hunan province, have not been mitigated even after local authorities made the investigation result public. Conflicting official and non-official versions of the incident have confused people, reflecting the failure of local authorities to respond to public queries.
On Tuesday, the local publicity department described the incident as a physical clash between some students and a teacher of Huangcang Middle School and drill instructors after a female student is said to have passed a comment against an instructor. The wordings of the statement were slightly different from the official version a day earlier that there was a "skirmish between drill instructors and students and teachers and the implicated instructors are all members of the reserve force", which thus put the blame on the instructors. After initial investigation, police too said "the incident was sparked by an unpleasant interaction between students and drillmasters and no tools such as knives ... were used".
These explanations are far from enough to answer why 40 students, one teacher and one drill instructor were injured in the incident. According to official statements, students' injuries were self-inflicted because they went on a rampage smashing doors, windows and glasses to protest against drillmasters' instruction to do "push-ups" after some of their classmates had passed a "jocular" remark against an instructor.
Media reports, however, have cited witnesses as having said that some of the drillmasters had "teased" female students, forcing male students to react angrily. And local residents said the instructors were drunkards and had also fought with students during military training in other local middle schools last year.
The public needs to be told which of these confusing versions is true, especially because military training has now become part of curricula of middle schools and universities, and authorities cannot afford to ignore the negative impact of the Longshan incident on the practice. And of course, they have to take immediate measures to rule out the recurrence of such incidents.
As a matter of fact, the negative impact of the incident can already be felt. Beijing Youth Daily has reported that a middle school in the capital has cancelled its military training program and another has suspended it.
According to authorities in charge of students' military training in 2012, more than 17 million university and middle school students receive military training every year. Since being introduced a couple of decades ago, the students' military training program is believed to have played a positive role in the physical and spiritual development of students and in teaching them survival skills.
The military drills, however, have been criticized for being monotonous, because instructors force students to follow a dreary exercise regimen - which includes making their beds and folding blankets into square shapes - and mistreat them. People have also raised questions on the increasing number of accidents during military drills and whether it is necessary to put civilians through professional military training.
A few days before the Longshan incident, a female middle school student committed suicide in Fuxin, Liaoning province, after she was reportedly criticized for not being able to perform an exercise routine properly and threatened that she would be thrown out of the training program.
Over the past few years, media outlets have also reported that some students slipped into coma during military drills. In 2010, for instance, a freshman from Wuhan University of Science and Technology in Hubei province vomited during a training session and was declared "brain dead" by doctors after being taken to a hospital. Two days later, another student from Hubei University of Economics died during military training. The deaths of the two students were attributed to their physical inability to cope with the tough regime of the drill, prompting people to question the logic of putting students through the rigorous training meant for soldiers.
But such incidents, sporadic as they are, cannot negate the good intention behind the military training program: to enhance students' endurance and instill in them a sense of patriotism. Nevertheless, it is time to reflect whether there is need to convert the highly intensive short-term training into a less-intensive, long-term program. There is also need to find out whether there are loopholes in the drill organization system and, if there are, how to plug them.
The author is a senior writer with China Daily. wuyixue@chinadaily.com.cn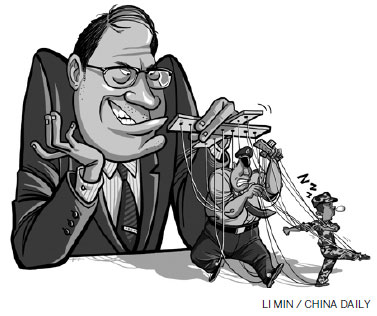 (China Daily 08/30/2014 page5)