EIGHT COMPANIES ARE REPORTEDLY BEING SUED by the China Biodiversity Conservation and Green Development Foundation for dumping untreated waste in the Tengger Desert between North China's Inner Mongolia autonomous region and Northwest China's Gansu province.
Texas Agriculture Commissioner Sid Miller, along with a few agriculture industry representatives and Texas A&M scientists, embarked on a trip this week to Gansu — the so-called "Wild West" of China — looking for more business opportunities in China's northwest region.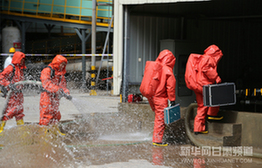 The Kongtong district of the city of Pingliang, Gansu province held a simulated ammonia leakage.
Lanzhou, capital of Gansu province plans a cross-border e-commerce platform to promote local consumption.