China's spending during the traditional Spring Festival maintained double-digit growth this year but the pace marked the slowest in more than a decade, according to the Ministry of Commerce.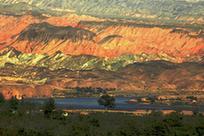 Located in the northeast of Jingyuan county, Hasi Mountain is 85 kilometers from the county town and next to Ningxia Hui autonomous region at its west.

The Yellow River Stone Forest scenic area is a national geographic park and a national 4A tourist attraction. Located in the southeast of Jingtai county, the stone forest is 70 kilometers from Baiyin city.

Located 27 kilometers southwest of Jingtai county, Gansu province, Yongtai Turtle Town got its name because of the turtle-shape of the castle.

The construction of Pingbao Yellow Bridge was initiated by local peasants as was honored as the "Chinese peasants' first bridge".

Covering an area of 9.13 million square meters, the Huoyan Mountain National Mine Park is one of the 28 national mine parks approved by the central government in 2005, with the mine park museum as the landmark building.

Silong Resort, located 25 kilometers southeast of Baiyin city and covering an area of 84,118 square meters, is sometimes referred to as "the pearl of Gansu and Shaanxi", and is ideal for relaxation and also to conduct business.

The Taoist temple Pingchuan North Wudang, also called Dielie Temple, is located in Shuiquan village in the Pingchuan district of Baiyin city, and it was built during the Tang Dynasty (AD 618-907).